Police have offered a £20,000 reward for information leading to the arrest and conviction of suspects involved in the Hatton Garden heist.
On Thursday, 2 April, in a sequence of events, reminiscent of a Hollywood blockbuster, the thieves managed to disable a second floor lift and climb down to the basement of the Hatton Garden Safety Deposit in Holborn, Central London, to make off with the jewels and gold. They plundered 72 safety deposit boxes estimated at £200m ($292m) worth of jewels.
The crime was only discovered when staff returned on Tuesday 7 April following the long Easter Bank Holiday break.
In a public appeal on BBC Crimewatch, Detective Superintendent Craig Turner, head of the Flying Squad, likened the jewel thieves to an "Ocean's 11 type team."
Mr Turner said: "This was a particularly ambitious burglary to say the least and has affected so many victims. People's property has been taken, people's pensions, people's heirlooms which obviously can't be replaced by insurance firms.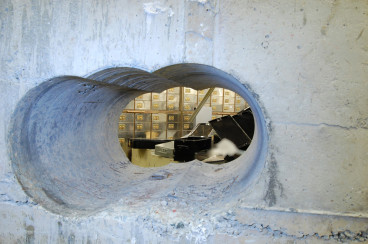 "We may well be misled - this is carried out by an almost Ocean's 11 type team, but in essence there are victims behind this and these are callous thieves."
Photos taken at the scene of the robbery at Hatton Garden Safety Deposit, near the City of London, show a hole measuring 50cm deep, 25cm high, and 45cm wide and 89cm from the floor as well as piles of security deposit boxes strewn across the floor.
The masked gang, who are still at large, used power tools, including an angle grinder, concrete drills and crowbars to break into the facility. Earlier, detectives released an image of the Hilti DD350 drill that was used to cut through the 6ft (2m) thick vault wall.
Describing the drill that was found at the scene as a "specialised bit of equipment", Mr Turner called for members of the criminal community, who may have seen the gang members in possession of the tool, to get in touch.
While many of the original owners of the jewellery have come forward to assist police with their enquiries, six victims remain who have not been identified by police. "I appeal to any of those victims who haven't been contacted by police to contact the incident room," Mr Turner added.
He also appealed for members of the public who were in the Hatton Garden area at the time of the theft and who may have seen anything suspicious to come forward.