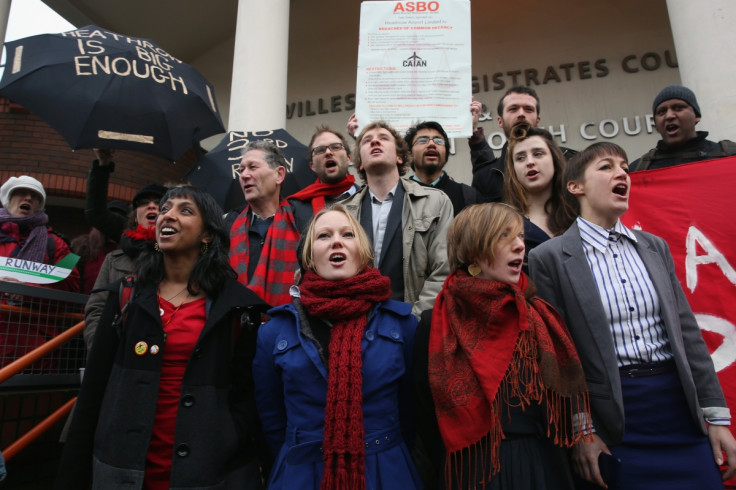 THIRTEEN activists who chained themselves to Heathrow's northern runway are preparing to be jailed on Wednesday (24 February), making them the first climate change protesters to serve prison sentences.
The Heathrow protest saw the group cut a hole in a fence and block the London airport's runway on 13 July 2015, leading to the cancellation of 25 flights. It was part of the Plane Stupid campaign, a grass-roots network which aims to end short-haul flights, airport expansion, reduce the number of planes in the air and stop aviation advertising, among other issues.
Heathrow executives said the group's actions posed a safety hazard and called for the activists to face consequences. In January, the group was convicted of aggravated trespass and entering a restricted area of an aerodrome. District judge Deborah Wright warned prison sentences were inevitable.
Ten of the "Heathrow 13" who could be jailed on Wednesday 24 February have no previous convictions. The group are Sam Sender, 23, Ella Gilbert, 23, Cameron Kaye, 23, Edward Thacker, 26, Alistair Tamlit, 27, Rebecca Sanderson, 28, Danielle Paffard, 28, Melanie Strickland, 32, Kara Moses, 32, Richard Hawkins, 32, Graham Thompson, 42, Sheila Menon, 44, and Robert Basto, 67.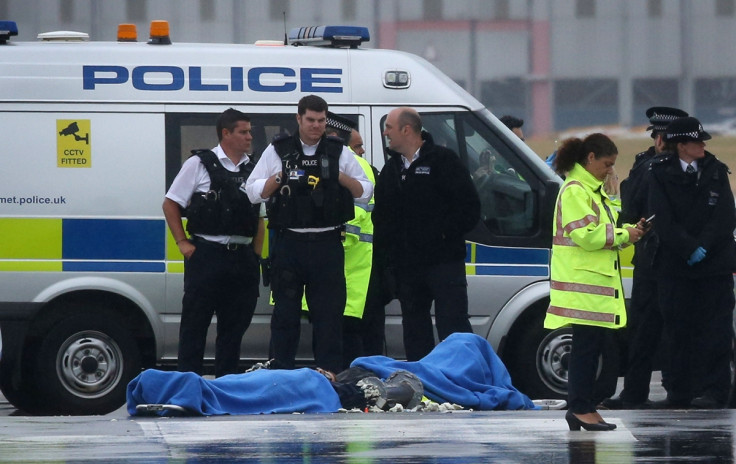 The group has remained defiant, saying its actions have drawn attention to the issue of air pollution as a result of air travel.
Following their convictions in January, the protesters released the statement: "Today's judgement demonstrates that the legal system does not yet recognise that climate defence is not an offence. We took action because we saw that it was sorely needed. When the democratic, legislative and processes have failed, it takes the actions of ordinary people to change them.
"We are very grateful for all the messages of support and solidarity we have received from all over the world, and are immensely proud of the action we took to combat emissions from aviation. Climate change and air pollution from Heathrow are killing people now, and the government's response is to spend millions making the problem bigger. As long as airport expansion is on the agenda, Plane Stupid will be here. We're in it for the long haul."
The Heathrow 13 have received support from prominent politicians and various heavyweights in the charity sector, including shadow chancellor John McDonnell, Green MP Caroline Lucas and the chief executive of Greenpeace UK.
McDonnell, whose constituency includes Heathrow, said he was "shattered by the concept" of the group being jailed. He has been a prominent opponent of Heathrow airport's third runway.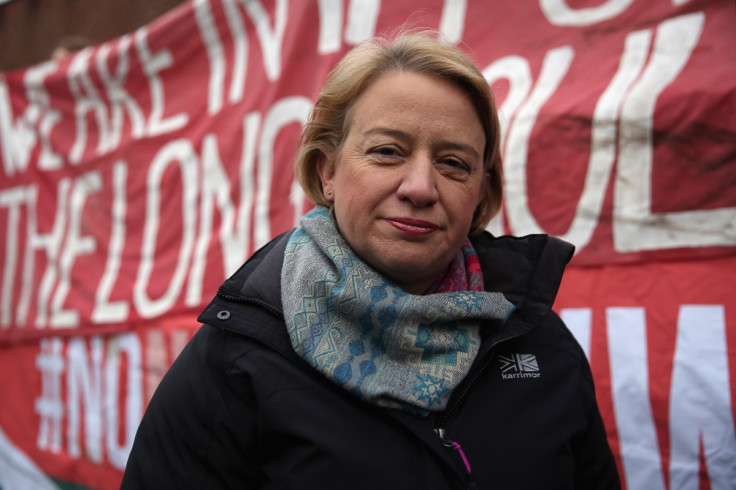 In a rally in October, McDonnell said: "In my constituency, at the moment, people are literally dying. They're dying because the air has already been poisoned by the aviation industry. They've promised us after every inquiry: no further expansion. They are liars. They have consistently lied to us. They now tell us if they get a third runway, there'll be no increase in noise and no increase in pollution. They're liars."
Former Green leader Caroline Lucas, who signed a petition saying sending peaceful demonstrators to jail would represent a massive threat to the right to protest in Britain, said prison sentences would be "deeply unjust".
Commenting on how the activists will be seen in the future, British writer and environmentalist George Monbiot said: "In years to come, those who put their own liberty and in some cases their lives at risk in order to press governments to take action to prevent climate breakdown will be regarded in the same light as the suffragettes, the chartists, the anti-apartheid activists and the antislavery movement.
"They will be regarded not as outlaws and subversives, but as democratic heroes. Succeeding generations, struggling with the impacts that our government's failures to take action on climate change bequeathed them, are likely to be amazed that they could have been seen in any other light."