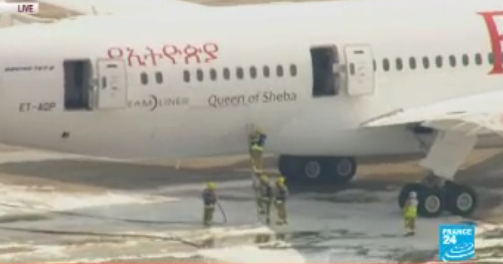 Heathrow airport has reopened after an Ethiopian Airlines Dreamliner jet burst into flames.
In a tweet, the airport said the plane was on the stand when it caught fire, and no passengers were on board.
Pictures published on Twitter showed a plane surrounded by fire engines with crews attempting to douse the blaze. The cause was not known.
A Heathrow spokesperson said: "We can confirm there has been an onboard internal fire involving an Ethiopian Airlines aircraft and the airport's emergency services are in attendance.
"The aircraft was parked on a remote parking stand. There were no passengers on board and there are no reported injuries at this time."
The BBC reported that the plane was a Boeing Dreamliner, which has been the subject of several mechanical problems in recent months.
A total of 50 Dreamliner planes were grounded around the world in January, after a string of problems centring on battery failure.
According to the BBC, the plane which caught fire was used to fly between Ethiopia and Kenya in April, in the first commercial flight since the Dreamliners were grounded.
READ:
Boeing's Dreamliner in Further Trouble As United Airlines' Flight Hit By Brake Problem
New Dreamliner Nightmare: United Airlines Flight Diverted Due to Oil Filter Problem
Boeing Dreamliner Reliability At Stake as Further Glitches Found in Aircraft
Boeing Dreamliner Ban in Japan to be Lifted
Boeing Waits for FAA Nod After Dreamliner's Successful Final Test Flight
ANA Seeks Cash Compensation from Boeing for Dreamliner Grounding
Boeing Expects Dreamliners to Resume Commercial Operation within 'Weeks'