Heathrow Airport Fire: Cargo Carrier Bursts into Flames Near Jet Airways Boeing 777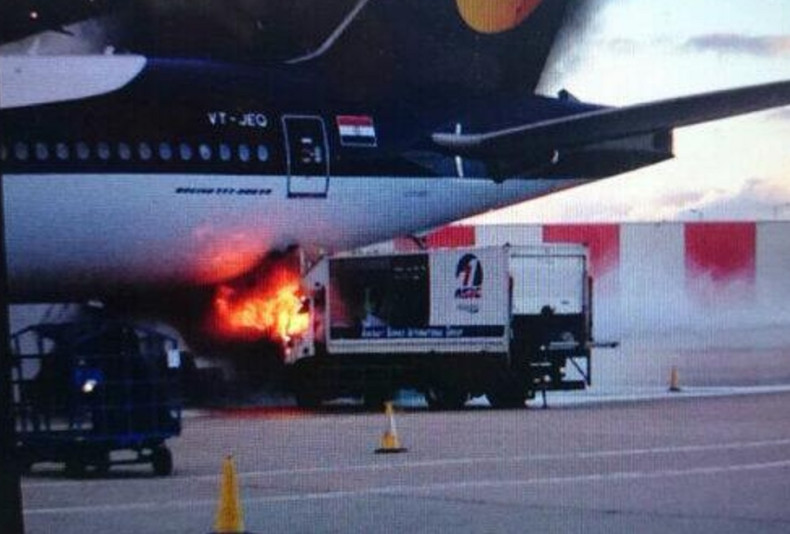 A Heathrow Airport cargo carrier burst into flames just metres from a Jet Airways Boeing 777 that was preparing to take off for New Delhi.
The flight was subsequently delayed by more than an hour after the front end of one of Airport Service International Group's high loader trucks ignited.
Smoke billowed out of the vehicle, which had stopped facing the rear of the plane near the outflow valve - the part that controls cabin pressure.
After the fire was extinguished, the aircraft was inspected before flight 9W 121 departed with a delay of about one hour and 15 minutes.
Jet Airways was founded in 1992 and is one of India's major airlines, operating more than 3,000 flights a day to 76 destinations worldwide. The Boeing 777 aircraft measures 74m in length with a wing span of 64m.
A Jet Airways statement published on the carrier's Facebook page said: "A high loader truck belonging to an external service provider suffered a minor fire prior to departure of flight 9W 121 from London Heathrow to Delhi.
"Contrary to media reports, no engine of the aircraft caught fire. As per procedure, all preflight activities were temporarily aborted and the fire was promptly extinguished by the authorities. Since the truck was in close proximity to our aircraft, on completion of formalities, the aircraft was inspected and released for departure. There were 155 guests and crew on board the flight."
A Heathrow Airport spokeswoman said firefighters attended the scene at approximately 7.30pm on Tuesday before extinguishing the blaze. She added that no one was injured in the incident and the plane sustained no damage.