The SNP's 56 ministers are to decide who they will back in the battle between Heathrow and Gatwick for a new runway depending on who will give Scotland a better deal, according to reports.
The SNP was previously thought to be among a clear Commons majority backing Heathrow to have a third runway over Gatwick's second.
However, SNP transport spokesperson Drew Hendry said Nicola Sturgeon's party are "neutral" on the issue and will pick any airport according to who would provide Scottish people with cheaper tickets on connections with international flights.
Speaking to the Evening Standard, Hendry said: "That does not mean we do not care about environmental issues or the effect it would have on people locally. Whatever decision must be made in the most balanced way.
"But my primary job is to represent the people of Scotland."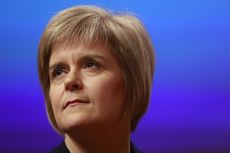 The SNP were thought to be a guarantee vote for Heathrow. The party has urged a free vote in Westminster in the hope that the Scottish MPs – plus those from Northern Ireland's DUP – will back the expansion on the basis of the west London airport providing better connection opportunities.
However, Hendry has said the SNP will consider both airports in what could be the latest parliamentary decision to be completely swung by the MPs.
He added: "We are absolutely neutral at the moment. The Airports Commission report has given Heathrow the nod but it specifically did not rule out Gatwick either.
"The key thing for us is that for too long Scotland has done pretty badly in terms of maintaining routes from regional airports, particularly Inverness and even Aberdeen."
"Ticket prices were routinely higher for Scots going abroad via London. The first thing we will be looking for is a fair deal in terms of onward flights. It is costing Scottish consumers much more per head. Onward connections are much more expensive – the prices are ridiculous."
The Airports Commission previously backed a third Heathrow runway, claiming it would give the economy a £147bn (€147bn, $231bn) boost, and produce 70,000 jobs by 2050. The report's author, Sir Howard Davies, said recommendations for the location of the new runway were "clear and unanimous".