Weather Warning: Flooding Fears as Heavy Rain Set to Batter Britain Again, Says Met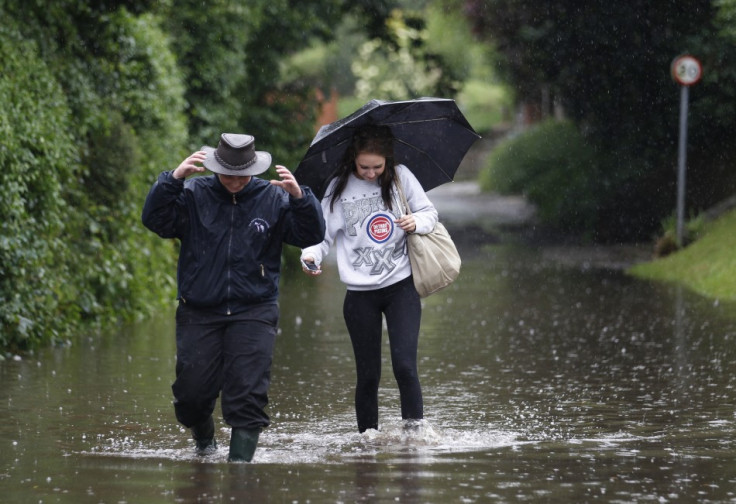 Heavy rain will hit several parts of the UK over the next two days, the Met Office warned.
Forecasters have predicted more than 60mm of rain in several parts of the UK, while some places in central and northern England will be the worst affected with nearly 100mm of rain expected.
An amber alert - the second most severe category - has also been issued for northeast England, according to the Huffington Post.
"We are expecting outbreaks of heavy rain across a wide area of the UK, with worst affected spots likely to be in central and northern parts of the country," Met Office chief forecaster Martin Young said.
Travellers and holidaymakers were urged to be prepared for heavy rainfall.
"Rainfall totals could be 40-60mm widely across warning areas, but some places could see up to 100mm of rain through Friday and into Saturday.
"Given the saturated ground from the record rainfall in June, this could cause disruption - including difficult driving conditions and flooding in some areas," Young added.
The Environment Agency has warned northern England is at high risk of surface water and flooding from the downpours.
"Yorkshire and the northeast have experienced some severe weather in recent weeks and, with further rain forecast for the next few days, we would urge the public to remain vigilant, check local weather forecasts and the Environment Agency website for information," David Dangerfield, regional director for the Yorkshire and northeast region of the Environment Agency, said.
Environment Agency teams are now monitoring river levels and clearing blockages to prevent flooding around culverts and bridges.
"The Environment Agency has mobilised teams across the country to check flood defences, clear any river blockages and closely monitor river levels to help reduce the risk flooding," Dangerfield said.
© Copyright IBTimes 2023. All rights reserved.