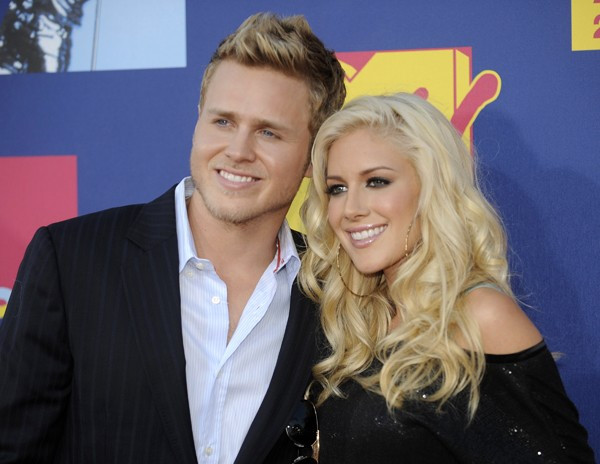 Heidi Montag and Spencer Pratt admit that their fame could never last, as the couple are now broke and living at Pratt's parents' house.
In an interview with the Daily Beast, they admit their break-up, divorce petition and eventual reconciliation was all staged in a last-ditch effort to hold on to their fame.
"At that point, we were pulling our last cards," Spencer, 27, tells the Web site. "We felt the hot-air balloon losing its gas. And at that stage, our income would be selling the photo that would go along with the divorce."
The former stars of The Hills are now broke and have found themselves largely unemployable since their time on MTV.
Montag first found fame in 2006 as the sidekick of star Lauren Conrad on the MTV reality series.
Pratt joined the show in season two as Heidi's love interest, driving a wedge between Heidi and Lauren's friendship.
But by season six the show's ratings had dropped and Spencer was banned after getting into a highly-publiciced fight with producer Sara Mas, in which he allegedly threatened to kill her.
In the Daily Beast interview Pratt tells his side of the story, describing an incident where he claims Mast encouraged him to become violent with his sister and co-star Stephanie Prat. Spencer told the Daily Beast:
"That's when I snapped,' 'To the point when I said - and this is when the producers got scared of me - "You want me to punch my sister in the face? Are you trying to get me to kill you?"
I didn't say, "I'm killing you." If I did, MTV would have had me arrested."
Speidi earned thousands at one point for creating staged photo-shoots with paparazzi but as interest in them and their bizarre antics dwindled they began to run out of funds fast, said the Daily Mail.
Montag who turns 25 next month, also took the moment with the Daily Beast to state her regrets on her infamous plastic surgery, which included 10 procedures in just one day. Montag Commented:
"I wish I didn't do it. I would go back and not have any surgery. It doesn't help.
"I got too caught up in Hollywood, being so into myself and my image. I don't regret anything, but if I could go back, I wouldn't do it."
The couple, who used to dine and party at the most exclusive Hollywood restaurants and clubs, now spend their days in Santa Barbara watching movies and eating Mexican food, said the Daily Mail.