Helena Bonham Carter Receives CBE from Queen Elizabeth [PHOTOS]
Actress Helena Bonham Carter has been honoured with the Commander of the British Empire award (CBE) for her contribution to films.
The actress, who played the queen mother in the Oscar winning film, The Kings Speech, received the award from Queen Elizabeth during an investiture ceremony at Buckingham Palace.
Miss Bonham Carter dressed in a red tartan outfit looked stunning and matched it with a mini top hat. She also carried a pink mobile phone which had bunny ears.
While talking to the media briefly about her big day, Miss Carter said it was "very, very special", reported the Press Association.
She was accompanied by her partner, American director Tim Burton, their children Billy Ray and Nell, and her mother Elena.
She has been nominated for the Oscars twice for her roles in The Wings of the Dove and The King's Speech. She won the Bafta award for her role in The King's Speech. She has also acted in several movies including Tim Burton's The Planet of the Apes, Fightclub and Harry Potter movies.
Bonham Carter is playing Miss Havisham in her upcoming movie Great Expectations, an adaptation of Charles Dickens' novel being filmed again. The movie is being directed by Mike Newell.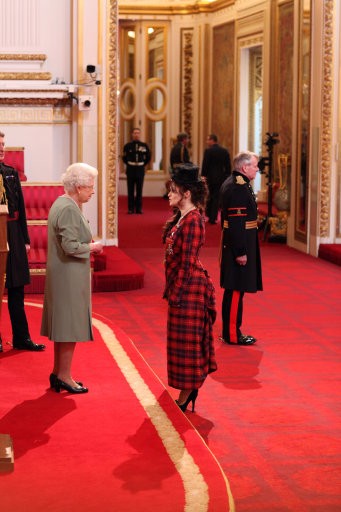 © Copyright IBTimes 2023. All rights reserved.