She was spotted kissing boyfriend Prince Harry at a polo event in Berkshire over the weekend –but Meghan Markle has had less glam moments in the public eye.
The 35-year-old Suits star – who has been dating the royal for nearly 10 months – was forced to wear a dress made out of toilet paper in wedding scenes from When Sparks Fly, a 2014 TV movie.
Somehow the actress managed to pull the outfit off, but she is unlikely to choose Andrex as her designer for any future wedding with the British prince.
Markle, who was 32 when she played journalist Amy Peterson in the movie, goes red-faced when she explains she is "going for TP chic" after being asked about the frilly makeshift gown and hair bow by her ex.
The stills of Markle in the film have re-emerged as her relationship with Harry heats up. The movie follows Markle's character on a return to her hometown to cover a story, before feelings for an old boyfriend resurface –despite being the maid of honour at his wedding.
Markle – who is becoming quite the style icon and wore a beautiful Erdem Fall 2017 dress to Tom Inskip's wedding earlier this year – is allegedly not attending Pippa Middleton's 20 May nuptials due to an enforced "no ring, no bring" policy.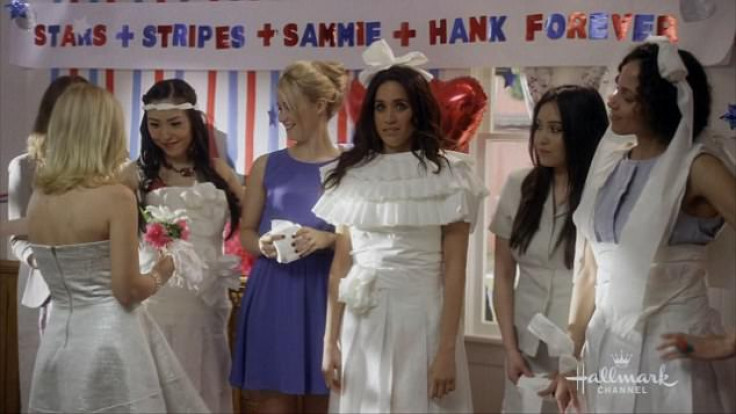 There was previous speculation that Middleton, 33, feared being upstaged by the actress on her special day.
She is said to be attending the reception instead as Harry's plus one, according to the Daily Telegraph, though whether she will turn up on the night remains to be seen. If she does go along, it will be another sign of the couple's strengthening relationship.
During the Ascot event on Saturday, Markle stood in the royal box and looked delighted as she watched her boyfriend playing polo at the Coworth Park polo club in Berkshire. They were later spotted kissing in the car park.