It has been rumoured for months that Meghan Markle will not be attending Pippa Middleton's wedding to James Matthews this spring due to a "no ring, no bring" policy.
Middleton, 33, is said to have enforced the rule to keep numbers to a limit and ensure that her thunder is not stolen by the media storm surrounding Prince Harry's relationship with the Suits actress. Matthews' brother Spencer is said to be going solo too, leaving his TV star girlfriend Vogue Williams at home for the occasion.
A source has now told People that although Markle, 35, will not be attending the ceremony at St Mark's Church in Englefield, England, on May 20, she is now said to be going to the reception with the redheaded royal.
The insider claims that despite Middleton's protocol, meaning that unmarried and un-engaged plus ones will not attend the event, they are more likely to head to the less formal party afterwards.
If Markle does show up to Middleton's wedding reception – which is taking place in the grounds of her parents' home in Bucklebury, Berkshire, and will be attended by the Duke and Duchess of Cambridge – it will be the second wedding event she has accompanied Harry to this 2017.
The couple's relationship has gone from strength to strength since they began dating approximately seven months ago, and Harry, 32, is said to have flown to her home base in Toronto, Canada, to spend the Easter period with her. The royal skipped his usual royal Easter tradition of attending services at St George's chapel at Windsor Castle with Queen Elizabeth II.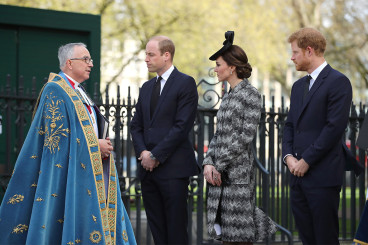 The report comes as Harry's interview with Bryony Gordon for The Telegraph podcast yesterday (18 April) saw him talk about dealing with the death of his mother, the late Diana, Princess of Wales. He claims to have shut out his grief before finally dealing with it and having "two years of chaos." He also said that he underwent counselling and urged those who suffered from mental illness to start conversation with others.
Royal writer Richard Fitzwilliams told IBTimes UK of the prince's comments: "This marks a real change in royal attitudes which have been famous for their reticence. It should be enormously helpful for those who suffer from this illness as discussing it was previously rare, it was a taboo topic."
It was also claimed over the weekend that Harry's relationship and newfound happiness with Markle prompted him to deal with his underlying grief.