A daring photographer whose pictures of war zones were reprinted around the world has been exposed as a fake, forcing him into hiding.
For years Eduardo Martins claimed to be a professional photographer from Brazil, but it has now been revealed that he simply copied work from other photographers who actually risk their lives on the front line.
The supposed 32-year-old from Sao Paulo – whose identity has never been verified – claimed to have visited everywhere from the Gaza Strip to Iraq and was an eye-witness to Isis streetfights in Syria.
But in fact all he did was take the work of others before photoshopping them to look marginally different.
He fooled the BBC, Al Jazeera and the Wall Street Journal, and amassed over 120,000 followers on Instagram.
The truth caught up with Martins last month, leading the mystery conman to reportedly go into hiding somewhere in Australia.
To make it seem like he had a life outside of war the conman added casual pictures from the Instagram of British surf blogger Max Hepworth-Povey, relaxing with friends or surfing.
Martins also photoshopped Hepworth-Povey's head into war scenes, making it seem as though the fake photographer was in the middle of raging battles.
Last October the ersatz snapper told culture and arts magazine Recount: "Once, during a shootout in Iraq, I stopped shooting to help a boy who had been hit by a Molotov and removed him from the shooting range. I stop being a photographer to be a human being."
The Walter Mitty character added in previous posts he had beaten cancer at the age of 25, worked in refugee camps with the United Nations and gave sports lessons to children in Palestine.
Some random guy
Hepworth-Povey, the real surf fanatic, was completely unaware his likeness was being used until he was contacted by other photographers and media outlets who unveiled the hoax late last month.
"When my friend showed me the photos first of all I thought it was a joke, some a***hole [messing] with me," Hepworth-Povey told the BBC.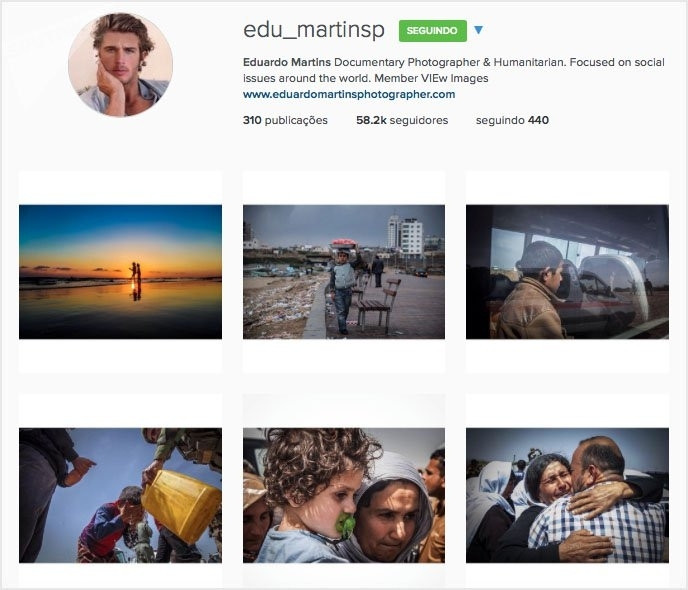 "But actually, my photos were stolen, it's crazy that some random guy decided to use my image among so many options across internet.
"I work very far from war zones, with surfing trips. All my pictures have always been taken in that context."
The net began to tighten around Martins when BBC Brazil found that no Brazilian journalist in Iraq and no one at the UN Refugee Agency had ever heard of him.
Fernando Costa Netto, who runs surfing site Waves, has struck up an online relationship with the conman over the last year.
He wrote on the site last month about his last conversations with the fantasist, days before he went to ground.
A year in a van
Netto wrote: "He told me that he was exhausted, emotionally shaken by months in Mosul [in Iraq], but that he was going to Raqqa, Syria, for another one."
But a few days later as Martins realised media outlets were asking questions about his work, he wrote to Netto one last time, before shutting down all of his online accounts.
The fraud wrote: "I'm in Australia. I made the decision to spend a year a van. I'll cut everything, including the internet. I want to be in peace, we'll see each other when I get back ... Stay with God. A hug."
At time of publication it is unclear whether Martins is in Australia, whether he is a man or woman, and whether he or she owns a camera.