Mexican "moles" have travelled to Haiti, Nepal and the Philippines in the past to rescue people caught up in natural disasters, but this month they found their services required on familiar ground: pulling earthquake victims from the rubble in their home country.
The 7.1 magnitude quake struck Mexico on Tuesday (19 September), killing at least 230 people.
The moles – topos in Spanish – are volunteers who formed a search and rescue team after a devastating earthquake struck Mexico City in 1985. They worked tirelessly to save people living in the working class neighbourhood of Tlatelolco where there were few government rescue workers.
One member of the group, doctor Oscar Guevara, said he found three people alive among the rubble of one building.
After 9/11, a group of moles travelled to New York City to help search for bodies at Ground Zero.
In the past few days, they have once again crawled deep under the rubble to pull people to safety, this time on their home turf.
One of the moles, Alejandro Méndez, told the Wall Street Journal that his group had rescued more than 10 people from two collapsed buildings in a southern suburb of Mexico City.
"We came to this building just 20 minutes after it fell, and we haven't stopped, almost 24 hours later," he said.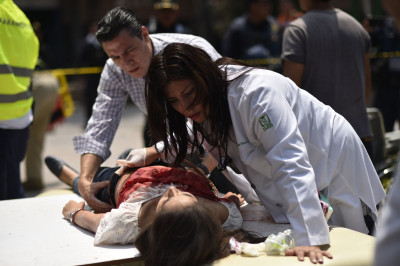 Parents anxiously gathered outside the Enrique Rebsamen school where rescue workers discovered the bodies of at least 22 children and two adults. Over 30 children are still missing and believed to be trapped inside the collapsed building.
"They keep pulling kids out, but we know nothing of my daughter," Adriana D'Fargo, who had been waiting for hours for news of her seven-year-old daughter, told reporters.
Television footage showed the moles working alongside emergency services to save the trapped students.
"I feel proud because my government is giving me respect," Hector Mendez, who set up a topos branch after the 1985 earthquake, told Reuters.
The 1985 quake killed more than 5,000 people. Miguel Angel Gomez of Topos' International Brigade told Reuters that the lower death toll in this earthquake showed how much construction had improved in Mexico City since 1985.
"In 1985 the damage was worse because there were many buildings that were old. The new buildings have new technology," he said, adding that most of the building that had collapsed were old.