Search and rescue teams comprised of firefighters, soldiers and volunteers are desperately looking for signs of life following the violent 7.1-magnitude earthquake that struck Mexico City on Tuesday (19 September).
The death toll has risen to at least 230 people in the capital and across five states and is expected to rise after the quake sent building tumbling to the ground, trapping people under massive piles of rubble.
In the south side of Mexico City, rescue workers removed at least 25 bodies from the ruins of a three-storey school building that pancaked onto students and teachers. All but four of the bodies were of children, The Los Angeles Times reported.
Another five people were killed at Monterrey Institute of Technology and Higher Education's Mexico City campus. Dozens more died in downed office buildings and apartment complexes.
According to the Times, President Enrique Peña Nieto has toured some of the city's worst-hit areas, as well as the state of Morelos. He declared three days of national mourning to honour the victims and told loved ones: "Mexico shares your pain."
In a video address to the country late on Tuesday, the president said many residents would need help but the first priority would be to rescue any victims trapped under the debris and provide medical care to those injured.
"As Mexicans, we have experienced difficult times because of earthquakes in the past, and we have learned to respond with dedication and a spirit of solidarity," he said.
Mexican authorities had issues confirming the number of dead and injured as chaos reigned throughout the areas affected, the Times reported. Mexico's national coordinator for civil protections Luis Felipe Puente tweeted late on Wednesday that the death toll stood at 230.
The death toll includes 100 dead in Mexico City, 69 in Morelos, 43 in the state of Puebla, 13 in Mexico state, four in Guerrero state and one in Oaxaca state. According to the Times, at least 800 people were injured in Mexico City.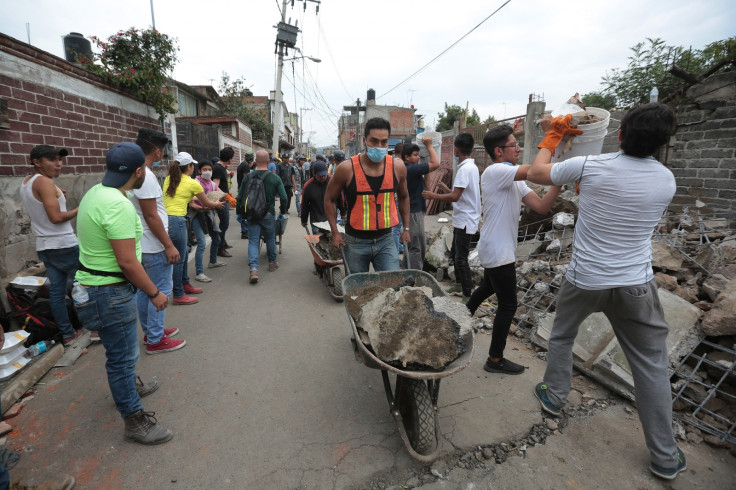 Throughout the capital, thousands of volunteers have offered to provide medical care, food and water or to help search through toppled buildings, The Washington Post reported.
In the central neighbourhood of Roma, small stores remained open throughout the night and offered food to rescue workers and victims' families. A hardware store provided tools to those trying to pick through the massive mounds of rubble.
"It's a pleasure to help," shopkeeper Rogelio Santos told the Post. "We wouldn't want to be anywhere else right now."
US President Donald Trump spoke to Peña Nieto offering his condolences and assistance and search-and-rescue teams, which were quickly deployed, the White House said. Tuesday's earthquake, the second temblor this month, came on the 32nd anniversary of the 1985 earthquake that left around 9,500 dead in Mexico City.