The US has again flown two of its supersonic bombers over the disputed South China Sea, the US Air Force said on Friday (7 July). This is believed to be the second flight by the US in less than a month over the hotly contested waters.
By flying over the islands that China claims as its own, the US is trying to assert the right to treat the region as international territory. The latest move by Washington is likely to infuriate the communist country.
The B-1B Lancer bombers made flight late on Thursday (6 July), Reuters reported. But it is unclear over which part of the South China Sea the bombers flew.
Before their flight, the B-1Bs trained with Japanese fighter jets in the East China Sea, where Beijing is again in dispute with Tokyo over a group of islands that both the countries claim as its own. It is reported to be the first time ever the US and Japanese forces have conducted night-time drills, the news agency noted.
The B1-B bombers were originally developed to carry atomic weapons, but they are no longer nuclear-capable, according to the Japan Times. However, the bombers can still carry the largest payload of both guided and unguided weapons.
The US Air Force made a flight over the South China Sea last on 8 June. The 10-hour mission saw two B-1B bombers along with the navy's Arleigh Burke-class guided-missile destroyer deployed in the South China Sea. The planes flew from Andersen Air Force base in Guam and operated with the San Diego-based USS Sterett in a bid to "sharpen their combat skills", the US military had said.
Washington's patrol has angered Beijing considering the US is not a claimant in the territorial dispute in the mineral-rich South China Sea. However, the US says its patrols are aimed at showing support for free passage to vessels in international waters.
The recent US flight comes amid simmering tensions in the region, especially with North Korea claiming to have developed and successfully tested its first intercontinental ballistic missile (ICBM) on Tuesday (4 July). The long range missile is apparently capable of striking the West coast of the US mainland.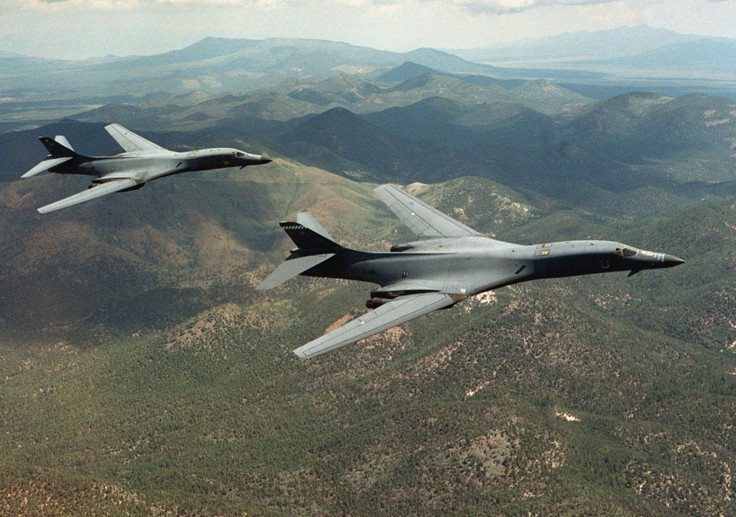 Washington is dependent on Beijing to rein in the belligerent North Korea. President Donald Trump and his administration have been pressing China to exert more economic and diplomatic pressure on the isolated North Korean regime to prevent escalating tensions in the Korea peninsula.
However, the US Pacific Command is also thought to be keen on admonishing Beijing as an aggressor in the strategic waterway, through which $5tn trade passes each year.