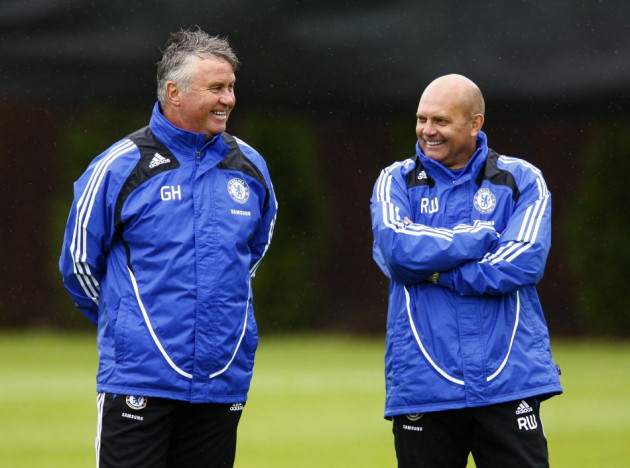 The coming of winter should be a reliable indicator for whichever manager is in the Chelsea hot-seat that the pressure to deliver never fully disappears, age being no limit.
Following Sunday's second consecutive home defeat - the latest a 2-1 reverse at the hands of Liverpool - the white noise surrounding Andre Villas-Boas' tenure has increased substantially.
Glen Johnson's late goal was not only the 11th time Chelsea's defense has been breached at home this season - the third-worst record in the Premier League - but also condemned the west Londoners to their third defeat in five league games to leave them trailing leaders Manchester City by 12 points.
And Monday brought a fresh wave of speculation surrounding the under-fire Chelsea manager as Guus Hiddink reminded the Portuguese that he still maintains a very healthy relationship with Blues owner Roman Abramovich.
Villas-Boas is unlikely to welcome Hiddink's comments that his relationship with Roman Abramovich "has been, and will always be, very good" as speculation grows that the former Chelsea manager could be in-line for a shock return to Stamford Bridge.
Hiddink, who had his contract terminated by the Turkish Football Federation by mutual consent last week, retains close ties with Abrahmovich and has been linked with a return to the club in a Director of Football role.
"The relationship [with Abrahmovich] was, has been, and will be good - very good," said Hiddink. "When I go to London I am always welcome, or in Cobham, or at the stadium.
"We don't speak every week, but every now and then there is contact and I feel very welcome always. We'll see what the future will bring."
Hiddink took temporary charge at Chelsea after Luis Felipe Scolari's brief reign ended in February 2009. The Dutchman guided the club to FA Cup success before Carlo Ancelotti took over at the end of the season.
Speculation over a return to Stamford Bridge increased following yesterday's defeat but Hiddink downplayed talk he might retire, saying he would take some time to consider his next move.
"I will take some time off and we will see what the future brings," he added.
"I have made a decision to stop the previous job and then one must take some time to reflect and look where there is a prestigious project, not just football but also through other things where I can help somewhere.
"I haven't agreed anything with anyone because I was in Turkey, that's why I will take my time to settle down and reflect on what to do.
"Whether it's nothing because I am 65 and can retire but I feel I have enough energy to go on and what the future brings we will see."