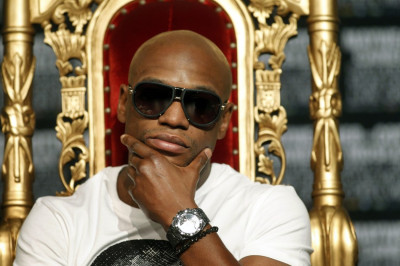 Boxer Floyd Mayweather Jr. has been named by Forbes as the highest paid athlete in the past year, earning around $85m (£54m)
Mayweather, nicknamed "Money" because of his lavish lifestyle, knocked golfer Tiger Woods off the top spot, a position he has held since 2001.
Woods fell to third place having earned $59.4m despite many of his lucrative sponsorship deals falling through because of his personal life and a dip in his professional form.
Mayweather's boxing rival Manny Pacquiao was named the second highest earner with $62m.
Mayweather, who is currently serving a three-month jail term for assaulting his ex-girlfriend, earned his millions thanks two victorious fights against Victor Orttiz in September and Miguel Cotto in May.
Mayweather became the highest paid athlete after spending a little over one hour in the ring. He also acts as his own promoter, taking earnings from all of the tickets, pay-per-view and sponsorships for each of his fights.
Mayweather has been a part of the four biggest non-heavyweight PPV events in boxing history. His fight with Cotto generated $94 million in PPV buys.
Elsewhere on the list, Miami Heat star LeBron James comes in at fourth place with earnings of $53m, the highest-paid basketball of the 13 basketball players in the top 100.
Tennis star Roger Federer comes in at fifth pace with earnings of $52.7m.
There are only two women who made it into the top 100, tennis players Maria Sharapova with $27.9, (26th) and Li Na with $18.4m (81st).
There are a total of 30 American football players who made the list, more than any other sport. Indianapolis Colts star Peyton Manning is the top-earning NFL star with $42.4 million, which puts him in 10th overall.
The highest paid Englishman is LA Galaxy David Beckham, with the footballer and Olympic Ambassador earning $46m.
The world's 100 highest-paid athletes have jointly earned a total of $2.6 billion in the last 12 months.