Mattel has made history with its first-ever Barbie dressed in a hijab. The toy company unveiled its latest model inspired by US Olympic fencer Ibtihaj Muhammad on 13 November at Glamour's Women of the Year Live Summit.
Muhammad, who became the first US athlete to compete in the 2016 Rio Olympics wearing the traditional Muslim headgear, was there to reveal the doll, describing it as a "very humbling" opportunity.
"I'm excited to just partner with a brand that I know honours powerful women who are breaking barriers and whose sole goal is to impact the future leaders of tomorrow," Muhammad told PeopleStyle. "To be included in this conversation is very humbling and I'm over the moon about this whole thing."
The Ibtihaj doll is part of the brand's Shero line, which depicts real-life female heroes. Other figures in the collection include plus-sized model Ashley Graham, actresses Zendaya, Kristin Chenoweth and Emmy Rossum, gymnast Gabby Douglas, singer Trisha Yearwood, ballet dancer Misty Copeland and director Ava DuVernay.
Muhammad worked closely with the designers at Mattel to make sure that her doll correctly depicted her athletic form. "I know that as an athlete I have larger legs — these strong legs that we use, especially fencers, to propel ourselves into lunges — and it was important for me to have my doll be as close to my likeness as possible. So I wanted to have athletic toned legs for sure," she explained. "I'm also really big into eyeliner. I like to think of my eyeliner as a shield of power; I not only wear it to the grocery store but I also wear it to compete. I wore it to the Olympic games, so I wanted my Barbie to have the perfect winged liner and also to wear a hijab."
The doll comes in a fencing uniform and hijab, and features the 31-year-old's name on the back. It also includes a fencing mask and a sabre.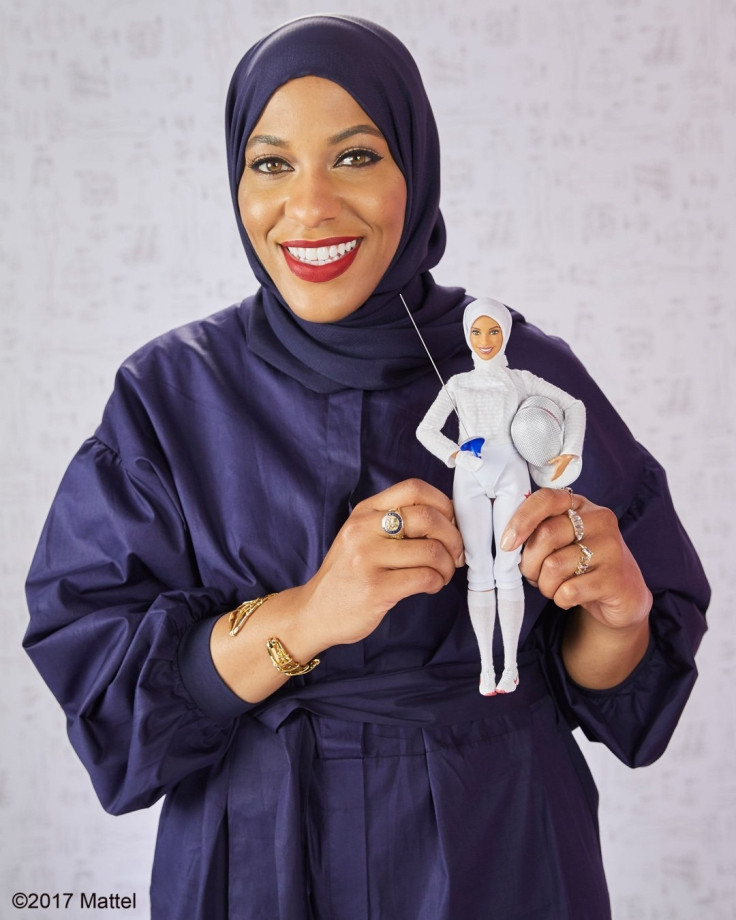 Choosing to create a hijab-wearing doll is a big move on Mattel's part, which for many decades was criticised for creating Barbies that gave young girls an incorrect idea about body image. In recent years the company has been developing more varied models, in different body shapes and with culturally specific features.
For many, however, the introduction of a Muslim Barbie does not come as good news. Numerous people took to Twitter to criticise the move, with stereotypical references to Isis, terrorism and jihad. "What's the male version of hijab barbie? Jihadi Iqbal?" one person commented.
While it is important enough that Mattel has chosen to feature a fencer for its collection, Muhammad also recognised the historic significance of making a hijab-wearing Barbie.
"I think its revolutionary for Barbie to take a stand in this moment that we're in – and I would say, as a country, to have a doll wear a hijab and be the first of its kind," she added. "There has never been a Barbie doll to wear a hijab before. I'm really excited... for all these little girls now who can shop for Barbie doll that may look like them, may wear a hijab like they do, or like their mom does, or like a friend does."
"It's cool to have Muslim girls in the conversation, to have African Americans as fencers is also really cool. I feel like we're just shattering all the little glass ceilings here."
The new Barbie is set to hit stores in 2018, and already Muhammad is keen that the brand also considers a doll inspired by Nobel Prize winner Malala Yousafzai. "When I found out I was the first woman in a hijab, I thought for sure Malala Yousafzai would have one," she said. "I think it would be cool to have Malala have a Barbie doll... her story line in general would be great to teach our kids today. I'm gonna tell Mattel to streamline that. I'll be the agent on that."
Muslim women were thrilled with the news, with many wishing they had the choice of a hijab-wearing doll, growing up, while others defended the choice to feature Muhammad in the headgear.
The new launch comes at a time when Mattel is attempting to diversify its offerings in the midst of falling profits. The company's stocks have dropped approximately 60% over the past five years and is now looking to be bought out by fellow toy brand Hasbro.
The My Little Pony-owner has launched a new bid for the Barbie makers — a move that both companies hope will help them stay afloat in a diminishing market.