Malala Yousafzai has been targeted by trolls during her first weeks at Oxford University, after she was photographed wearing wearing heeled boots, skinny jeans and a bomber jacket.
The Nobel laureate, who started studying at Oxford University three weeks ago, was criticised for swapping her salwar kameez, traditional Pakistani dress, for casual Western clothing.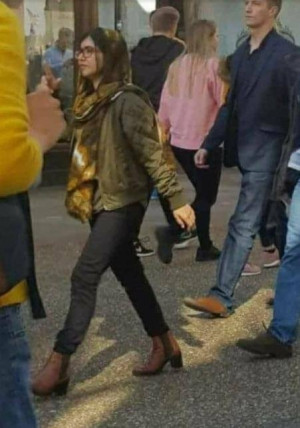 Some trolls compared the 20-year-old human rights activist to Lebanese-American porn star Mia Khalifa, who sparked controversy when she wore a hijab in an adult film.
One man wrote: "Look at hypocrite Malala wearing pants! Is she even a Muslim?" Another troll wrote the abusive message: "That was the reason the bullet directly targeted her head long time ago."
Yousafzai started her Politics, Philosophy and Economics (PPE) degree at Oxford five years after she was shot by the Taliban in her hometown in Pakistan. She was shot because she spoke up for girls' rights to education.
Aged just 15, Malala found herself fighting for her life, but the brutal attack did not deter her from her mission to encourage more girls around the world to get an education.
Since the Taliban's attack, Malala has become a global icon, winning the Nobel Peace Prize for her advocacy work in 2013 and becoming the youngest ever UN messenger of peace.
The abusive messages about Yousafzai's clothing choices sparked outrage among the activist's supporters.
BBC presenter Anita Anand described Yousafzai as a "heroine and a role model", telling the Mail Online: "Malala can wear whatever she likes as far as I'm concerned.
"The baying criticism is coming from the most regressive quarters, and I doubt she could do anything to please them. I sincerely hope she never tries. All of my Pakistani friends agree with that sentiment."
Lawyer Imaan Mazari-Hazir wrote on Twitter: "More people lost their minds over Malala wearing jeans than when she got shot. Our priorities demonstrate why we are our own worst enemy."
Buzzfeed journalist Elizabeth Pears commented: "Malala was shot by the Taliban for going to school. I doubt she cares what you think of her fashion choices while she's at Oxford."