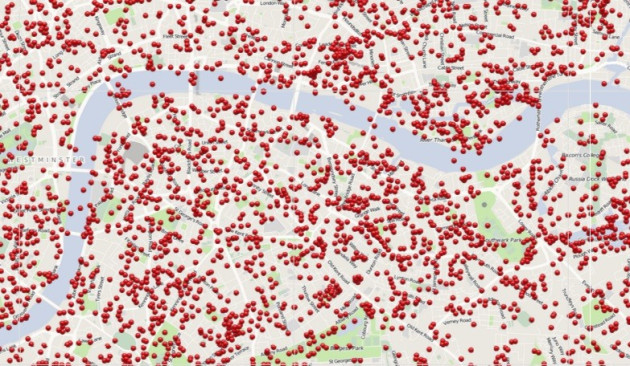 A map that shows in never-seen-before detail the huge bombardment endured by London in the Blitz has gone online.
Each red dot shows a site where incendiary devices landed during 57 nights of non-stop bombing by the Luftwaffe between October 1940 and June 1941.
For months, Britain was the last line of defence against Adolf Hitler's Nazi empire after France and much of mainland Europe capitulated before the German war machine.
Bomb clusters appear close to the River Thames and the docks, which were targeted by German generals to squeeze supplies of food and household necessities and the economy. Many streets were hit repeatedly, homes were destroyed and fires raged for days.
The new map drawn from the National Archive means that for the first time the information is available at the click of a button for residents to find out if their street survived the worst of Hitler's lust for conquest.
"Previously available only by viewing in the Reading Room at the National Archives, Bomb Sight is making the maps available to citizen researchers, academics and students wanting to explore where the bombs fell and to discover memories and photographs from the period," said a project spokesman.
"The augmented reality view shows you markers hovering over where bombs fell, scaled to show closer locations with larger markers and smaller ones for those further away.
"We add a label with the name of the street it fell on. If you click on the marker, you'll get a bit more information about the bomb and how far away from your location it fell."