A Hitler painting has sold for €130,000 (£103,000) at auction in the German city of Nuremberg.
The 1914 watercolour entitled 'Standesamt und Altes Rathaus Muenchen' (Civil Registry Office and Old Town Hall of Munich) was acquired by an unnamed buyer from the Middle East.
The auction house said there had also been inquiries about the painting from Asia and the US.
Auction house chief Kathrin Weidler said the item was sold by two unidentified German sisters in their 70s, who had decided to donate around 10% of the proceeds of the sale to a charity that helps disabled children.
When asked if it is tasteless to sell artworks produced by the Nazi dictator, Weidler said complaints should be addressed to the sellers.
"Those who want to get worked up about this should just go ahead and get worked up about it," she told Reuters.
"They should take it up with the city of Nuremberg or with those who preserved it. It's a historical document."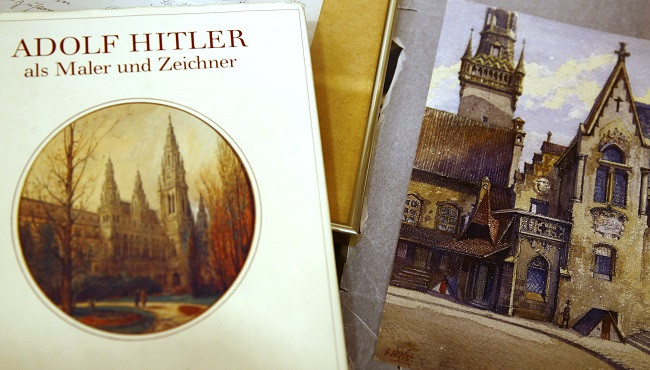 Another auctioneer, Anja Doebritz said that although it is legal to sell work produced by Hitler, she would not do it.
"What to me is a shame is that money is being made with an affection for this regime," she told The Telegraph. "I personally would not do it but every auctioneer has to decide for himself."
The painting is one of around 2,000 artworks produced by Hitler between 1905 and 1920 when he was a struggling artist.
Before joining the Bavarian Army at the outbreak of World War I, Hitler sold several paintings and postcards to earn money for his daily life.
In his autobiography Mein Kampf, Hitler wrote that his hopes of becoming an artist were dashed after being repeatedly rejected by Vienna's Academy of Fine Arts.
Five other paintings by Hitler have fetched between €5,000 and €80,000 at auction.