eBay users are trying to cash in on the H&M "racist" hoodie scandal with listings of the now-discontinued item appearing online for extortionate sums, but the private selling website is removing the "banned" item.
Multiple listings seen by IBTimes UK today (Tuesday 16 January) showed what sellers claimed to be the original "coolest monkey in the jungle" hoodie, bought before it was removed from sale by H&M, with one reaching £104 with 10 bids before it was taken offline.
Another listing, accompanied by a photograph of the controversial hoodie with its tags still on, was listed by a Dublin seller with a "buy it now" price of €1,600 (£1,422). A third, from Birmingham, had a reserve price of £75. Others were listed for around the £100 mark.
All listings available earlier on Tuesday (16 January) seemed to have been deleted by 3.45pm. Alternative slogans on remaining spoof products ranged from "coolest human in the jungle" to "coolest lion" and "coolest cracker".
An eBay spokesperson said the item was "banned" from sale on the site and that it "will continue to remove items listed maliciously".
The hoodie was removed from sale by H&M last week after outrage over the advert that saw a black boy modelling the item. The store said: "We have got this wrong and we are deeply sorry. We have a responsibility to be aware of and attuned to all racial and cultural sensitivities – and we have not lived up to this responsibility this time.
"This incident is accidental in nature, but this doesn't mean we don't take it extremely seriously or understand the upset and discomfort it has caused. We have taken down the image and we have removed the garment. We will now be doing everything we possibly can to prevent this from happening again in future."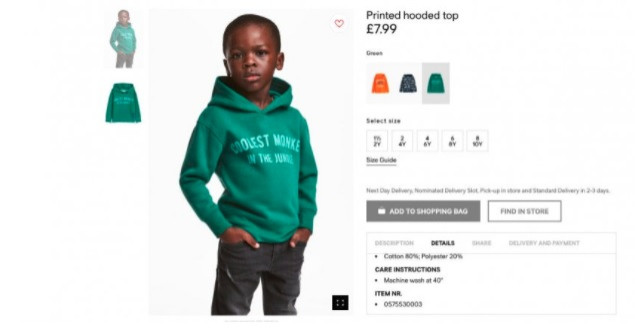 However the young model's mother, Terry Mango, said she had no initial reaction to the hoodie when she was present at the photoshoot. She told This Morning on Monday: "I wouldn't see such a connection to anything other than my son modelling a shirt, and until the controversy now and the whole furore that is going on, then you kind of look back and wonder what might have been my initial response to it."
Not everyone was surprised this happened – some predicted the inevitable listings almost a week ago.