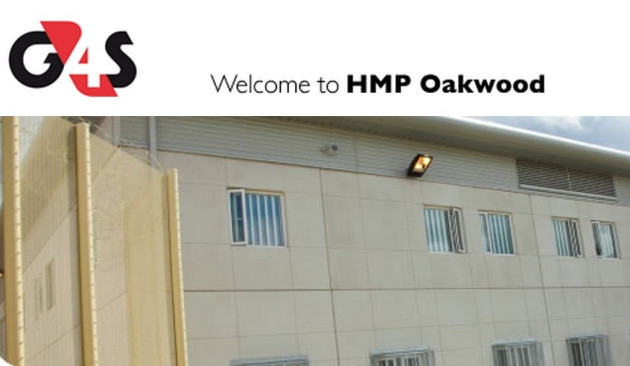 Prison guards at Britain's second biggest jail are "four foot-tall" ex-burger flippers at risk of being overrun by dangerous inmates, a former convict has claimed.
That was the warning from a man who has spent time behind bars at privately-run HMP Oakwood in Wolverhampton. He predicted riots will happen there, because security firm G4S cannot enforce the rules.
The warning from the ex-prisoner, who spoke out on condition of anonymity, came just as three Oakwood inmates caused chaos by mounting a rooftop protest to which police negotiators had to be summoned to help out G4S.
He said: "People are getting a kicking every day in there. Forget the category, there are hardcore criminals being watched by staff who are 4ft tall and used to work in McDonald's or a supermarket. One yell and they're gone.
"G4S should do what they're good at - security, not prisons, because they can't cut prisons.
"The regime is not tough enough. Drug-dealing, harassment and loads of phones, it's all there. The bullies are getting away with it," he told the Birmingham Mail.
"Unless they change things, there will be riots and uproar. If you leave people to flip, it's bad news."
There is room for 1,600 prisoners at Oakwood and it was recently dubbed "Jokewood" after a damning report which found high levels of violence and self-harm.
Fuelling the worrying claims were reports that prisoners were using dead pigeons as drug mules to smuggle narcotics in to the jail. The rotting carcasses of dead birds were stuffed with drugs so convicts could get high - right under the noses of G4S staff.
"They're even being stashed inside pigeon carcasses [and thrown over the wall]. No one inspects a dead bird - they just put it straight into the bin," said the former inmate.
Jerry Petherick, managing director for G4S custodial and detention services, admitted there were acute issues at Oakwood: "The mobilisation of any prison is a complex and challenging operation but the size and scale of Oakwood made this even more acute."
He said steps had been taken to stem the flow of drugs.