Holiday Inn and Premier Inn deny having a big group of children stranded by the Manchester bombing
Hotel chains deny reports suggesting they took in as many as 60 children following Ariana Grande gig blast
Two hotels in Manchester city centre have denied reports they took in dozens of unaccompanied children in the wake of the blast at the nearby Manchester Arena.
Early reports claimed that as many as 60 children were taken to the Holiday Inn in Goadsby Street after they got separated from their parents or guardians following the explosion at the end of an Ariana Grande concert which killed at least 22 people and injured a further 59.
The news resulted in tens of thousands of people sending tweets and Facebook messages urging family members to contact the hotel if they have not heard from their loved ones in the wake of the suspected terrorist attack.
However, the hotel said they do not have any missing children at the branch less than half a mile from the arena where the blast occurred and instead offered a number to ring if anyone is concerned about missing people.
Karan Khanna, vice president Operations of the International Hotel Group, the parent company which owns the hotel chain, told IBTimes UK: "Our thoughts are with all the victims of this horrendous tragedy as well as their friends and family and the people of Manchester. The hotel teams at Crowne Plaza Manchester City Centre and Holiday Inn Express Manchester City Centre - Arena have both been working closely with the emergency services throughout the night, supporting members of the public who needed immediate refuge.
"The hotels are fully operational and continue to offer support. A number of other Holiday Inn hotels in the wider area also offered those impacted a place to stay – as the wider Manchester community did – through social channels."
He added: "There has been reports of a number of unaccompanied children being bought to a Holiday Inn or Holiday Inn Express in the area, however these are incorrect. Our hotels were working with police throughout the night, but we did not have a group of unaccompanied children at our hotel."
The hotel added in a statement: "There is an emergency line available for those concerned about loved ones or anyone who may have been in the area last night - 0161 856 9400."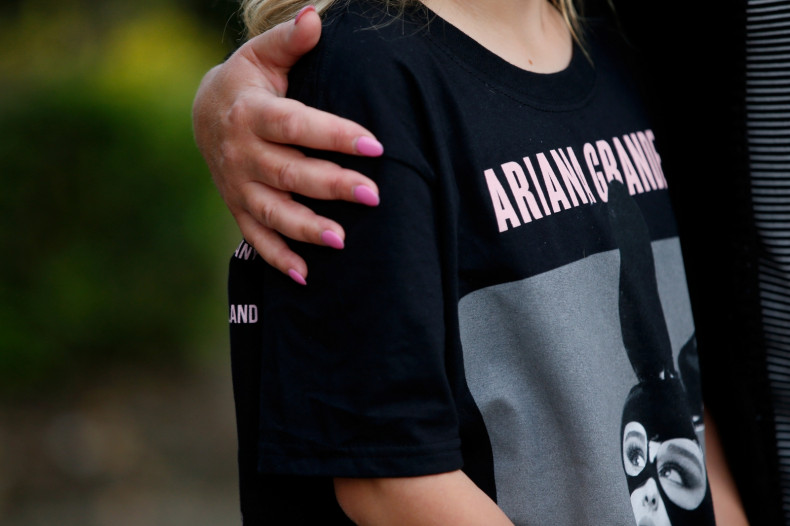 There were some suggestions that there may have been confusion and the children were in fact taken to the Premier Inn branch in nearby Victoria Bridge Street.
However, IBTimes UK spoke to two separate spokespeople from the Premier Inn, who categorically stated that the group had not sought refuge at one of their hotels.
IBTimes UK is awaiting a statement from Greater Manchester Police.
Speculation that a large group of unaccompanied children had sought refuge in a hotel close to the MEN began to gather after a series of Facebook posts from a member of the public in the immediate aftermath of the attack.
The Facebook user said she had taken "about 50 kids" to a Holiday Inn just before 11pm on the evening of the bombing. In another post 14 minutes later, she said she was taking "loads of kids" to a nearby Premier Inn. It is possible they were left outside one of the hotels with police officers and volunteers.
Her posts were then distributed widely across social media, with other users urging anyone with missing friends or family to contact the hotels, claiming they were hosting dozens of unaccompanied children.
What did occur following the blast was the #roomformanchester hashtag on Twitter in which local residents offered those caught up in the attack a placed to stay for the nights as well as free car rides.
Local restaurants and bars were also offering free food and services including hot drinks and water anyone affected by the attack.
Theresa May condemned the attack which left 22 people dead, including children, as one of the "worst terrorist incidents" the UK has ever seen.
May added: "The people of Manchester and the UK have fallen victim to a callous terrorist attack - an attack that targeted some of the youngest people in our society with callous calculation.
"We struggle to comprehend the warped and twisted mind that sees a room packed with young people not as a scene to cherish but as a scene for carnage."
The prime minister also said authorities believe they know the identity of the suspected lone attacker, but did not give any further details.
Following the blast, which police described as the "most horrific incident we have had to face in Greater Manchester", Police Chief Constable Ian Hopkins said: "Families and many young people were out to enjoy a concert at the Manchester Arena and have lost their lives.
"Our thoughts are with those 22 victims that we now know have died, the 59 people who have been injured and their loved ones. We continue to do all we can to support them. They are being treated at eight hospitals across Greater Manchester.
"Emergency numbers have been established for anyone who is concerned for loved ones who may not have returned home 0161 856 9400 or 0161 856 9900."