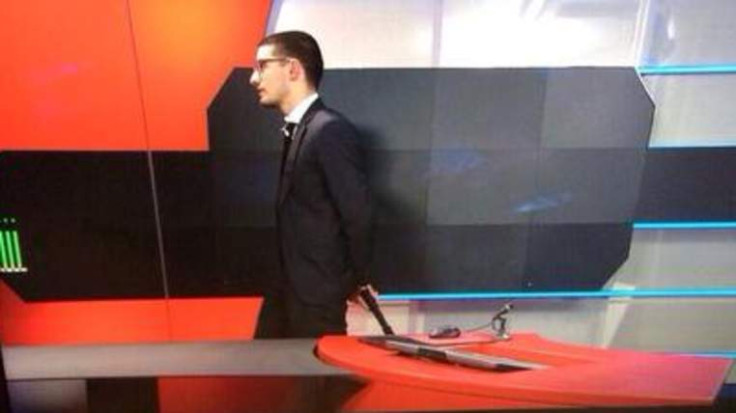 A gunman was arrested on live TV after he dramatically stormed the studios of a Dutch TV broadcaster.
The suspect, who was armed with a pistol, seized control of the NOS studios in Hilversum, 12 miles east of Amsterdam, and demanded to be put on air. As the incident unfolded the channel went off the air, but cameras in the studio continued to roll, recording the shocking hostage attempt.
He was apprehended by armed officers as he disrupted the live broadcast of the evening news. Footage of the arrest was later broadcast to the nation.
Wearing a black suit, white shirt and black tie, the suspect can be seen in the video wandering in front of cameras holding a pistol.
The man, who has not yet been identified, claimed to be a member of a hacker's collective working for Dutch intelligence.
Speaking to someone off camera, he said: "The things that are going to be said (pause) those are very large world affairs. We were hired by the security service."
Armed police then arrive at the scene and ordered him to drop his weapon shouting "Drop it! Drop it! And get on your knees!"
Five police officers instructed him to turn around and lie down, which he did after which he was arrested. No-one was hurt and no shots were fired during the incident.
Police said in a statement that the man demanded airtime and threatened that bombs had been planted at several locations around the Netherlands and would be exploded if his demand was not met.
The gunman had a silencer on the pistol and gained access to the studio after he threatened a security guard, and forced him to take him upstairs to the editorial offices.
Staff were evacuated and remained outside for nearly two hours while special police units searched the rest of the building. While the broadcaster was off air, a screen on the NOS1 channel read: "In connection with circumstances, no broadcast is available at this time. Please be patient."
NOS later resumed broadcasting from a studio in The Hague.
Prosecutor Johan Bac said the 19-year-old suspect was from the town of Pijnacker, near The Hague.
"There is a major investigation underway to get clarity as quickly as possible about what happened here tonight," said Bac.
The suspect is being held on suspicion of making a threat, possession of a weapon and taking a hostage.
NOS director Jan de Jong said that security at the headquarters had been increased in the aftermath of the attack on satirical newspaper Charlie Hebdo in Paris in which 12 people were killed.
The media park in Hilversum, which is home to several Dutch broadcasters, has been tightly guarded ever since Dutch politician Pim Fortuyn was gunned down in a car park there in 2002.