Hollyoaks star Kieron Richardson has been left fearing for his job after giving away a major spoiler during an interview on This Morning today (29 March).
The 31-year-old soap star may find himself in a spot of trouble with producers after appearing to let slip that his character Ste Hay killed Amy Barnes.
Despite being a regular cast member on Hollyoaks since 2007, gaining a fair amount of interview and media experience, Richardson proved he is human after all and let slip about on the significant detail in the storyline.
Richardson, known for playing the recovering drug addict Ste in the soap, was left in a fluster after revealing which character left Amy Barnes (Ashley Slanina-Davies) for dead after she fell to her death in Monday night's episode. Last night's episode also saw his character fail to remember what had happened after coming around from his blackout.
Tony Hutchinson and Diane found Ste in the bathroom at their flat and quiz him over the blood on the floor outside, to which he recalls cutting himself on some glass.
But Richardson may have just contradicted his onscreen character in his televised interview today with ITV hosts Holly Willoughby and Phillip Schofield.
He began with: "We've known for nearly a year now [about the murder]. Because people know I'm having babies, they're like 'it's not you'. The story's been planned way before we got pregnant."
He said: "The performances are absolutely brilliant. Ashley who plays Amy Barnes is an absolutely fantastic actress.
"Even in my final scenes when I... no. Is this live? Have you got any jobs here? I might need one."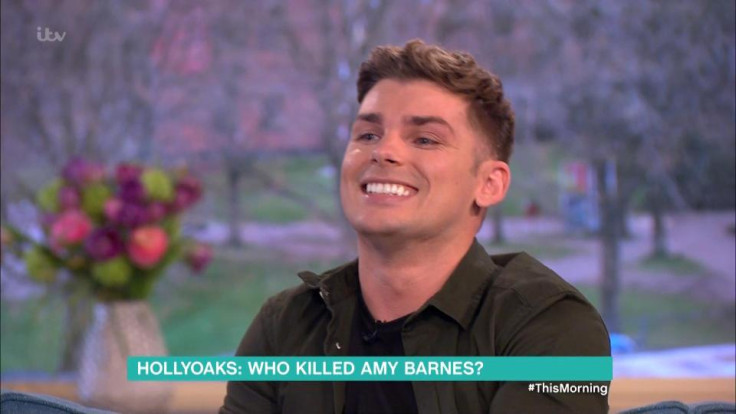 Raising his hands over his face in distress, Richardson was convinced he had revealed too much, despite catching himself from spilling any secrets after hinting Ste was present in Amy's final moments.
Presenters Schofield and Willoughby reassured him it would take a detective to figure out the spoiler from his remarks.
It appeared that Richardson couldn't regain his concentration as while discussing the twin boy and girl he and husband Carl Hyland are expecting, he said: "I can't really concentrate right now because I feel like I've lost my job."
After springing up from his seat and running away from the sofa, Willoughby joked: "I think we broke him."
Luckily for Richardson, fans saw the funny side of the mishap as one watcher tweeted: "Nice mistake on this morning @MrkieronR still praying it wasn't ste though," as another said: "haha just watched this on catch up amazing ur class Kieron well done m8t soo funny."
A third isn't convinced that Ste is the killer, stating: "the mags never announced it was definitely Ste, they stated that Ste will have a blackout and might be the killer".
Hollyoaks continues tonight on E4 at 7pm.