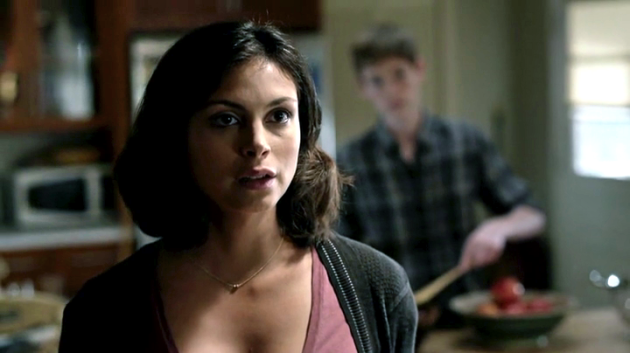 Families have always played a central part in Homeland, and in Still Positive, the halfway point of the season, we saw them changed, broken up and perhaps created. Saul (Mandy Patinkin) leaves his marital troubles behind to work on luring in Javadi (Shaun Toub), who we find is motivated by revenge on the family who betrayed him to live in the West. Dana (Morgan Saylor) decides to dispense with not only the Brody name, but also the Brody household to break free of the dark shadow her fugitive father has placed, whilst Carrie (Claire Danes) discovers she's pregnant with possibly Brody's baby.
Yes, that last bit really did happen; as Carrie pulled out a drawer inexplicably stuffed full of pregnancy tests before seeing she was positive. Whilst it could be from her drunken fling in the first episode, the fact that there are so many tests suggests she could well have been taking them since she was with Brody at the romantic cabin in the woods. Yes it doesn't make sense, and even worse it threatens to derail Carrie's storyline once again in to soap opera. After spending the first few episodes locked away at a mental institution, watching her turn the tables on Javadi during the lie detector test was a satisfying return to form. Now this pregnancy storyline looks set to ruin that.
Broken Families
Most of the episode focused on Saul, his failing marriage and his long running vendetta against Javadi. As someone running the CIA, he's hardly the most observant individual, first failing to realise he was never in line to be head of the agency, and then not seeing that his wife Mira (Sarita Choudhury) was having an affair. He continues along with the same cold determination, refusing to let any emotions blind his insistence that his plan to snare Javadi will work.
But as we learn, Javadi can be ruthless when backed in to a corner. Having already betrayed Saul over 30 years ago during the Iranian revolution, he now gives Saul and Carrie the slip by skipping the rendezvous point for the home of his ex-wife (Mary Apick) who fled to the West all those years ago. The way he murdered her with the glass bottle was brutal, by far the most violent moment in the show's history. Clearly this is designed to highlight Javadi as an evil and maniacal character, but when other absurd elements such as the pregnancy are littered throughout the show, such moments as these lose their dramatic impact.
Changing Families
Whilst Dana's story was not absurd, it definitely wasn't interesting. She gets her surname changed in order to remove the Brody stain, before going one step further and moving out of the house altogether, much to the shock of her mother Jessica (Morena Baccarin). In another painfully contrived scene, she waits until the last minute to let her mother know she's leaving, sparking off some strained goodbyes with her, Jessica and Chris.
So halfway through season three and we have families crumbling all around, but yet precious development of Carrie and Brody's storylines. Seeing as Brody has appeared in just one episode this year, you get the impression he only popped up to reassure viewers he was still alive. What will Saul do with Javadi as an asset? How will Carrie deal with the pregnancy? When will Brody show up again? Quinn (Rupert Friend) was unfortunately bang on the money when he said, "This is just the f**king beginning".
Previous Episodes
Episode 5 Review - The Yoga Play
Episode 3 Review - Tower of David
Episode 2 Review - Uh... Oh... Ah...