Police have arrested a 30-year-old man in connection with a brutal mugging in northern England on 2 October. CCTV footage shows a woman, 74, being dragged along an alleyway and stamped on, before having her bag stolen.
The attack took place in Great Horton, Bradford. The violent attacker stalked the pensioner from a distance towards junction of Low Green Terrace and Southfield Lane. He then checked it was all clear and pounced.
He snatched the her handbag, using it as a makeshift leash to drag her by the neck into the quiet residential street. He then pulled her for several yards across the cobbles as she clung on to her belongings.
But the resilient victim was proving too much of a match for the cowardly mugger, who then resorted to stamping on her while she lay on the floor.
He struck her upper body sharply three times with his foot. Only then was he able to prise the handbag from her desperate hands.
The woman was taken to hospital with several injuries. She remained there overnight but was said to be recovering on 3 October.
The sickening CCTV footage went viral on social media after it was shared by a man claiming to be the son of the victim. Ian Fearnley wrote: "So this is my mum in the video. Please share and get this scumbag caught. It happened on Southfield Lane, Great Horton, Bradford, just after lunch today."
Within 24 hours West Yorkshire Police announced they had detained a man and were questioning him in relation to the attack.
Furious Facebook users commented on the video, expressing their disgust with the actions of the mugger. Many of them suggested bringing back the death penalty or using torture methods to punish the him.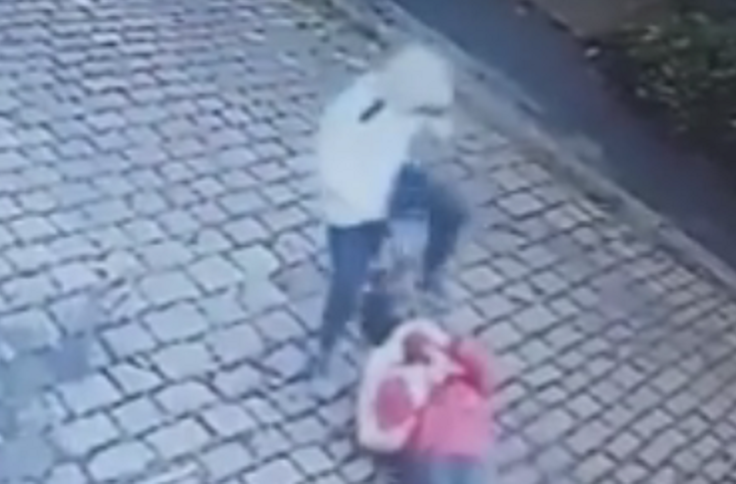 West Yorkshire Police's full statement read: "Police have arrested a 30-year-old man following a robbery involving an elderly female in the Great Horton area of Bradford yesterday [Monday]. He remains in custody at this time and enquiries are continuing."