Homeserve Plc, the provider of home emergency and repair services to over 4.9 million customers internationally, has braced up to perform well for the current year and beyond by addressing the root causes behind the sales, marketing and complaints handling issues in the Britain. The company is scheduled to release its pre-close trading update for the FY 2011-12 on March 29, 2012.
Homeserve is making progress in the UK by energising its customer focus and restarting marketing activity, although this is taking longer than expected initially. However, overall retention in the UK remains strong.
According to the group, the reduction in total customer numbers in UK during FY 2012 could be around 8 percent, a 3 percent decline from its previous guidance. It also expects renewal revenues in FY 2013 to fall up to £10 million, some of which it expects to be offset by lower operating costs.
While commenting on the interim results, Homeserve CEO Richard Harpin, said: "The group delivered a good first half financial performance as customers continue to value our products and services as evidenced by our global retention rate which remains high at 83.3 percent. We were disappointed to have found evidence of a shortfall in our standards in our UK sales and marketing procedures. We are taking decisive action to address these issues to ensure that our practices meet the high standards that both we and our customers expect. Our UK business has put in place a programme to reinvigorate our customer focus. Our International businesses continue their growth and now account for 66 percent of the total household market and 40 percent of our total 5.1 million customers."
In the first six months of the financial year 2011-12 revenues rose 25 percent to £213.1 million compared to £171.0 million for the same period a year ago. Adjusted profit before tax was at £23.5 million, up by 10 percent and adjusted earnings per share were increased by 11 percent to 5.2 pence.
Espirito Santo downgraded its FY 2013 earnings estimates by 7 percent and reduces its fair value to 285 pence from 335 pence and said Q3 update signals further slippage in outlook for UK customer figures.
"Disappointingly the statement does not provide sufficient reassurance in the resilience of the business model, which we anticipated. The group's valuation rating has recovered some ground, yet after a bigger short-term decline in profit forecast and uncertainty still prevalent over the extent of maturity in the UK, it is hard to see how HomeServe will be able to justify further rating improvement, which we think is deserved longer term," the broker added.
However, the group is confident about its growth in international markets and the resilience of the UK business model will help it deliver a good financial performance in 2012 and beyond.
Below is a summary of sector comparisons in terms of price earnings, earnings per share, dividend per share, dividend yields, return on equity and price-to-book ratio. The table explains how the company is performing against its peers/competitors in the sector. The table below represents top five companies based on market capitalisation.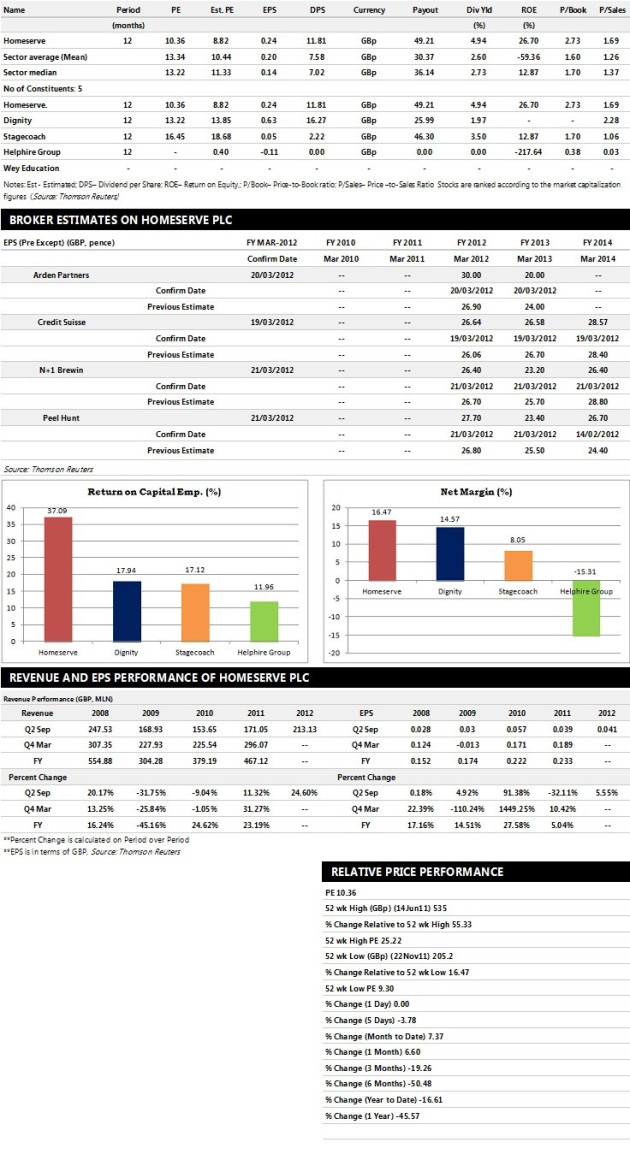 Brokers' Views:

- Peel Hunt recommends 'Sell' rating on the stock
- N+1 Brewin assigns 'Hold' rating with a target price of 260 pence per share
- Arden Partners gives 'Outperform' rating with a target price of 256 pence per share
- Credit Suisse assigns 'Hold' rating with a target price of 275 pence per share
Earnings Outlook:

- Peel Hunt estimates the company to report revenues of £523.20 million and £469.00 million for the FY 2012 and FY 2013 respectively with pre-tax profits (pre-except) of £128.00 million and £109.00 million. Earnings per share are projected at 27.70 pence for FY 2012 and 23.40 pence for FY 2013.
- N+1 Brewin projects the company to record revenues of £521.60 million for the FY 2012 and £603.10 million for the FY 2013 with pre-tax profits (pre-except) of £121 million and £108 million respectively. Profit per share is estimated at 26.40 pence and 23.20 pence for the same periods.
- Arden Partners expects Homeserve to earn revenues of £494 million for the FY 2012 and £539 million for the FY 2013 with pre-tax profits of £124 million and £112 million respectively. EPS is projected at 30 pence for FY 2012 and 20 pence for FY 2013.