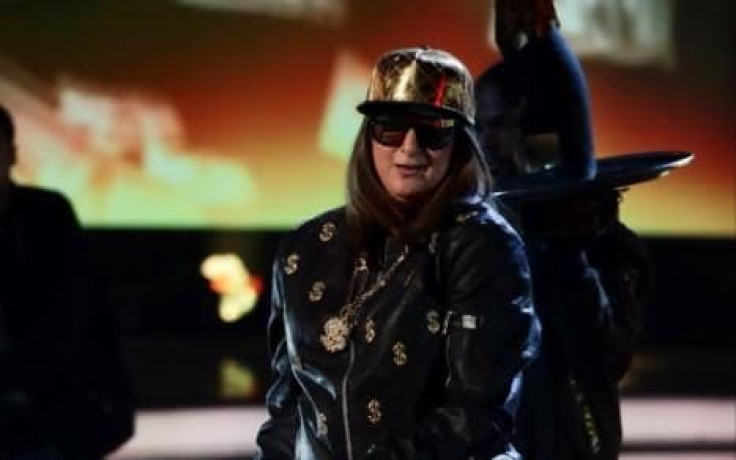 Honey G left viewers divided after her performance on Saturday night's X Factor. It was Motown Week and after a series of soulful renditions of classic songs by the other contestants, Honey G's performance had very little of the Motown sound about it.
The unlikely rapper from 'North Weezy", who won a place on the TV talent show and has since inspired mothers across the country to unleash their inner ghetto style, took to the stage in gold tin foil pants and a black jacket emblazoned with dollar signs and of course, her trademark black shades and cap.
Performing a self-penned rap to what appeared to be a backing track of Diana Ross's I'm Coming Out (The Notorious B.I.G.'s 1997 hit Mo Money Mo Problems cover version), she spent most of her time on stage bellowing her now customary chant "H to the O to the N to the E to the Y to the G; it's Honey G," to the apparent delight of the crowd.
With a shout out to her mentor Sharon Osbourne she rapped with cocksure confidence "Mrs O we'll win the show and we'll have a Christmas number 1".
However, the performance had some viewers up in arms in view of the absence of any actual singing and it certainly didn't fit in with the Motown theme. "Honey G is singing the same song every week. That has to be against the rules," said one unimpressed viewer.
"So it doesn't matter what the theme is, Honey G is just going to sing what she wants," said another.
The 35-year old, who in her other life is better known as mild mannered recruitment manager Anna Gilford, has been accused of being a parody act and of cultural appropriation. Even bonafide pop stars and former X Factor winners Little Mix have questioned whether she is in fact an actress, brought in purely for the Marmite factor, as audiences seems to either love her or hate her.
"She's just no. I think she's an actress, I've been told she is as well," Jesy said. "I'm all for entertainment, but I'm also all for real talent as well," Leigh-Anne added.
While she might be a bit of a one-trick pony, the tinfoil wearing rapper has won some high-profile fans, including former Take That star Robbie Williams. The Angels singer joined the discussion on social media about Honey G describing her as "the most entertaining act on The X Factor so far."
Spandau Ballet's singer Martin Kemp also seemed to get the joke. "That just made me smile!!!," he tweeted.
TV's Mr Nasty, Simon Cowell who is renowned for being unforgiving when critiquing the show's more cringe-worthy novelty acts, too seems to be enamoured with the overnight star. Describing her as his "guilty pleasure" he told The Xtra Factor's Rylan Clark Neal "I've kind of got a little crush on Honey G."
The publicity she has won the show probably explains Simon's fondness for her. Honey G was trending worldwide on Twitter with commentators observing that she could even win The X Factor.
While the other performers are clearly more talented singers, mentor Sharon Osbourne remains confident. "I think she can win yes", she insisted.
And if she does, Snoop Doggy Dog has said he will perform live on the final with her. Speaking about the possibility of performing with her idol, Honey G said: "I'm over the moon, I'm properly on it. I'm ready to start rolling with it. It's all about holding the number one spot on this one. We're holding it down, we're ramping it."
Love her or hate her, the whole world is talking about Honey G. She shut it down.