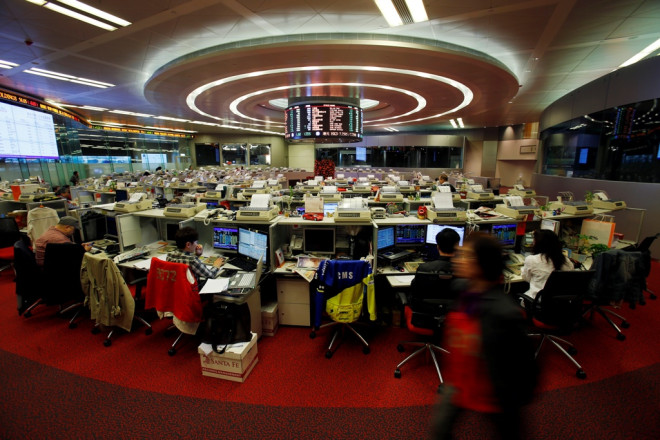 Hong Kong Exchanges & Clearing (HKEx), the world's third-biggest bourse operator, is expected to report its biggest quarterly profit growth in nearly six years when it puts out its fourth quarter earnings update on 26 February.
Analysts also expect the bourse to report significantly higher fee income on the back of a near four-fold increase in initial public offerings (IPOs).
Net income in the three months to 31 December 2013 is expected to have jumped 38% to HK$1.19bn ($153.3m, £92m, €111.5m) from HK$864m a year ago, according to the average estimate of 18 analysts polled by Bloomberg. Figures were derived using nine-month results and full-year analyst projections.
The number of IPOs on the Hong Kong bourse shot up almost fourfold to 48, from 13 a year ago, and funds raised through those listings more than doubled to HK$107.2bn from HK$45.2bn, according to Hong Kong Exchanges data.
About HK$59bn in shares changed hands on the stock exchange on average each day in the fourth-quarter, a 5.4% increase in the indicator known as turnover, according to Bloomberg data.
Revenue related to market turnover accounted for about 67% of the bourse's total in the first nine months of 2013, while listing fees made up 11%.
The Hong Kong bourse will also report profit contributed by London Metal Exchange, the world's largest for commodities, on 26 February. Hong Kong Exchanges purchased LME for $2.2bn in 2012 by selling new shares, issuing convertible bonds and securing a £543m ($904m) loan.
Hong Kong Exchanges' earnings momentum may slow if turnover slides and it fails to increase profit from the LME, Francis Lun, chief executive of Geo Securities told Bloomberg.
HKEx aned HSI
HKEx's stock finished 0.17% higher at HK$121.00 on 25 February, after sliding 0.1% to HK$120.70 as of 9:56 am Hong Kong time.
Hong Kong Exchanges' stock has lost some 6.35% so far this year. That compares with a 1.69% gain for ASX, the operator of Australia's main bourse, and a 4.96% drop for Singapore Exchange.
The Hong Kong bourse's consensus rating, or the average of analysts' recommendations, is at 3.3 out of 5, compared with 2.7 for ASX and 3.44 for Singapore Exchange.
Meanwhile, the benchmark Hang Seng Index (HSI) finished 0.32% lower at 22,317.20 points on 25 February.
The HSI has lost some 4.24% so far this year, the second-worst performer among the major developed markets tracked by Bloomberg, as the US reduced monetary stimulus and China data pointed to a slowdown in the world's second-largest economy.
Mainland Competition
The December quarter's strong listing market may not be sustainable in the face of new competition. Chinese firms may decide to debut shares on the mainland after the China Securities Regulatory Commission (CSRC) revoked a 14-month ban on IPOs in November 2013, according to Core Pacific-Yamaichi Hong Kong. China was the world's largest IPO market in 2010 with a record $71bn raised.
Castor Pang, head of research at Core Pacific-Yamaichi said it is "hard to attract long-term funds" in Hong Kong. "US stimulus cuts may dry up market liquidity," Pang told the news agency.
"We'll probably see further improvements in fourth-quarter results because there's been a lot of new listings, and fee income from IPOs would have increased substantially," said Kenny Tang, the Hong Kong-based general manager of AMTD Financial Planning. "Turnover has also been improving."
LME Acquisition
"As a result of capital that was issued to fund the LME acquisition, the return on equity for the business is structurally much lower than it used to be," said Matthew Smith, an analyst at Macquarie Group. LME earnings in the first nine months in 2013 accounted for nearly 9% of the Hong Kong bourse's HK$3.5bn profit for the period.
"Hong Kong Exchanges is at an inflection point, with consensus estimate downgrades over the past couple of years finally giving way to upgrades with this week's earnings report," said Sandy Mehta, chief executive of Value Investment Principals in Hong Kong.
Alibaba IPO

Market players are watching whether Chinese e-commerce giant Alibaba Group would pick Hong Kong over the US for the biggest IPO since Facebook, which raised $16bn in May 2012.
Alibaba has not decided when and where to sell its shares, the company said in an e-mailed statement on 20 November; Japan's Nikkei newspaper had cited chairman Ma Huateng as saying he preferred a Hong Kong flotation as early as this year.
Equities Rebound
The Hong Kong stock market rebounded in the second half of 2013, with the Hang Seng China Enterprises Index, known as the H-share index, surging some 24% as Beijing unveiled the biggest reform package since the 1990s.