Hong Kong: Ex-Ming Pao Editor Survives Meat Cleaver Attack Amid Press Freedom Fears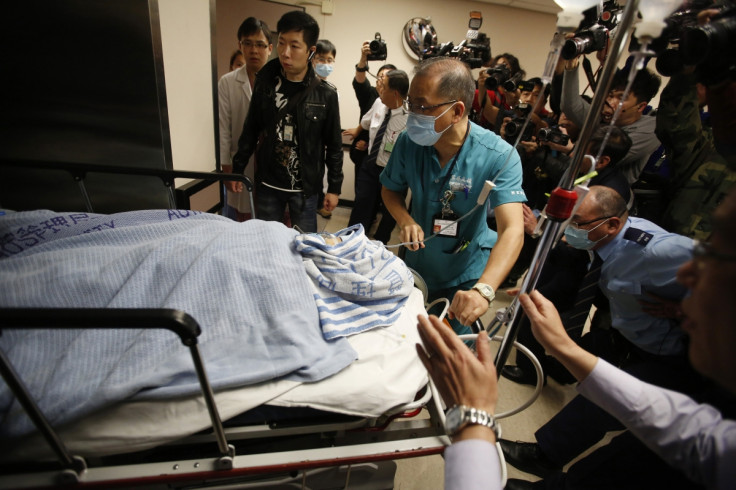 The former editor of Hong Kong newspaper Ming Pao daily whose removal triggered fears over press freedom in the Chinese territory has been attacked with a meat cleaver and seriously wounded.
Kevin Lau Chun-to was slashed in the back and legs by a man in the helmet who afterwards fled the scene on a motorcycle with an accomplice.
He managed to call police and is currently in critical condition at the Pamela Youde Nethersole Eastern Hospital in Chai Wan.
The doctors said that the next 24 hours would be a "critical period" for Lau. The 16-centimetre-long wound was so deep it reached from his back through to his left chest cavity, severing "all the muscles" in between, Dr Tang Chung-ngai told the South China Morning Post.
Lau's dismissal in January sparked protests by journalists and activists in the former British colony, which returned to Chinese rule in 1997.
The semi-autonomous territory has enjoyed greater degree of freedom then the rest of China but Beijing's Communist Party is trying to rein in the independent media.
China has agreed in principle for the city to hold direct elections in 2017, but no framework has been set up.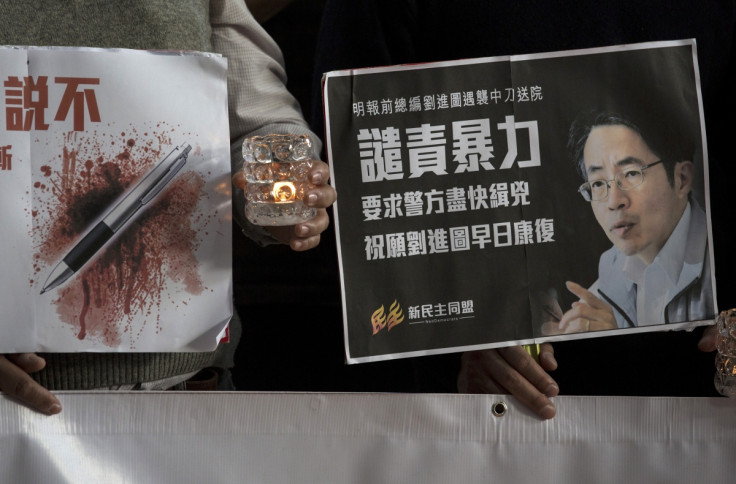 Pro-democracy activists hold a sign with an image of former chief editor of the Ming Pao daily Kevin Lau Chun-to as they attend a candlelight vigil to urge the police to solve the stabbing incident involving Lau
Reuters
The attack took place after 6,000 journalists marched in Hong Kong's government HQ to demand to the city's leaders maintain press freedom against intrusions from mainland China.
Lau, 49, was named editor of the respected Ming Pao newspaper in 2012 but was replaced last month by a Malaysian journalist with no local experience.
Lau investigated the suspected death of a mainland dissident who was deemed a suicide by authorities.
He also took part to the investigation by Washington-based International Consortium of Investigative Journalists that looked into Chinese leaders – including President Xi Jinping and former PM Wen Jiabao – owning stakes in companies registered with offshore tax heavens, including the British Virign Islands.
Hong Kong Journalists Association expressed outrage at the attack: "The Hong Kong Journalists Association condemns in the strongest terms this morning's brutal knife attack on former Ming Pao chief editor Kevin Lau at Tai On Street in Sai Wan Ho. Mr Lau is in serious condition in Eastern Hospital."
"HKJA urges the authorities to pursue his attackers and those malignant forces behind them without fear or favour. The attackers must be brought to justice as quickly as possible to allay public fears."
The Foreign Correspondents' Club Hong Kong also issued a statement: "We urge the Hong Kong police to treat the incident with the utmost urgency, and to find and prosecute the culprits."
"The Club reiterates its view that the growing number of attacks against members of the press in Hong Kong needs to be taken seriously by the local administration. Hong Kong's reputation as a free and international city will suffer if such crimes go unsolved and unpunished.
"Our thoughts are with Mr Lau and his family."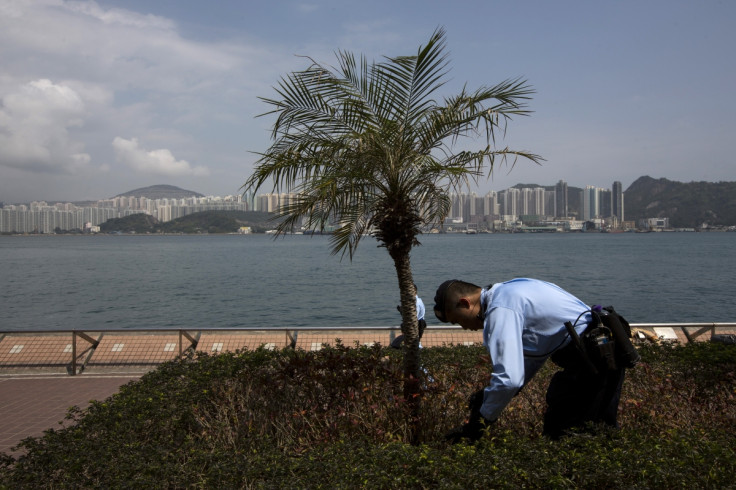 © Copyright IBTimes 2023. All rights reserved.