Police in Hong Kong standing on raised, moving platforms used "pepper cannons" to fire what was described as "tear spray" at protesters.
Protesters complained about being burned by the substance. One, who gave his name as Yiu, told AFP it was "much stronger than pepper spray" used on earlier occasions by police.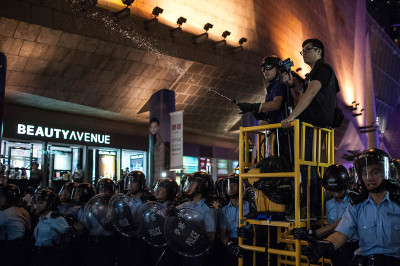 The chaotic scenes came as authorities cleared part of a pro-democracy protest camp in the bustling Mongkok district following a court order to reopen a road.
The gritty, working-class area across the harbour from the main protest site at Admiralty has been the scene of some of the most violent clashes during two months of pro-democracy demonstrations.
Workers in white helmets and vests removed wooden blockades from the road after demonstrators had dismantled tents and packed up their belongings.
The injunction was granted to a bus company which said the blockade had hurt business.
Protesters initially put up no resistance as workers started tearing down barricades, moving wooden pallets and other junk into the middle of an intersection to be taken away.
But as the authorities pushed down Argyle Street to remove tents and other debris, they faced defiance from protesters, who used delaying tactics such as asking for more time to pack up their belongings. At least 32 people were arrested.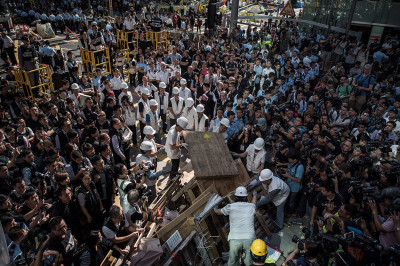 Authorities are expected to enforce a second restraining order covering the rest of the Mongkok site on Wednesday 26 November.
"Tomorrow will be the main event," said Albert Chan of the radical pro-democracy People Power party. "There will be more people joining the resistance. Maybe there will be more arrests tomorrow."