Hong Kong Police Arrest 'Hackers' After Anonymous Pro-Democracy Protest Attack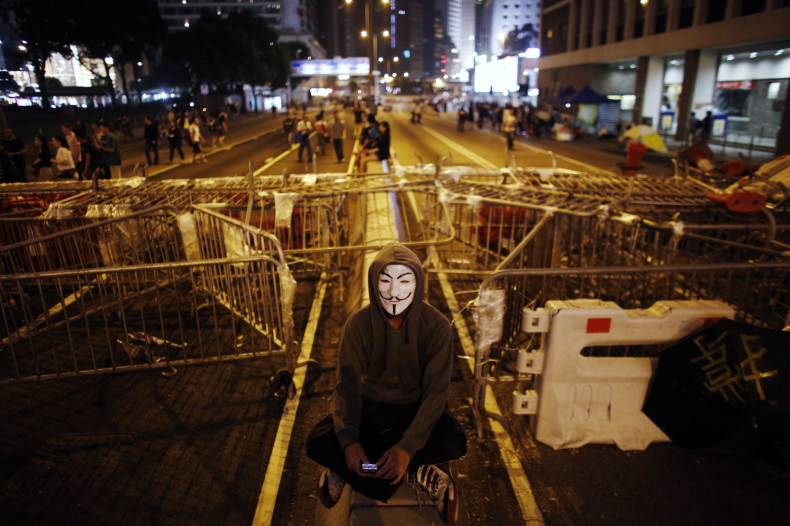 Hong Kong police said they arrested five suspect hackers, days after hacktivist group Anonymous declared an online war against local authorities in the wake of pro-democracy protests.
The alleged cyber pirates, aged between 13 and 39, were held in connection with recent hacking attacks against the website of the semi-autonomous territory's government.
Police senior superintendent Hui Chun-tak said the five were accused of "accessing a computer with criminal or dishonest intent", AFP reported.
Earlier, the government said its website had suffered from cyber-attacks that severely affected traffic to the page.
According to The Standard newspaper, police carried out raids at four separate locations in the city as part of the anti-hacking operation and seized six computers and some portable devices.
Last week, Anonymous members released a video message accusing police of harassing students demonstrating for democratic reforms in Hong Kong and threatened to retaliate targeting state-run websites.
"To the protesters in Hong Kong, we have heard your plea for help," a heavily disguised narrator's voice said in the video.
"You are not alone in this fight. Anonymous members all over the world stand with you and will help in your fight for democracy.
"To the Hong Kong police and any others that are called to the protests, we are watching you very closely and have already begun to wage war on you for your inhumane actions against your own citizens.
"If you continue to abuse, harass or harm protestors, we will continue to deface and take every web-based asset of your government offline."
Protests in the former British colony started last month after Beijing decided it was to screen candidates for the first election in the territory in 2017.