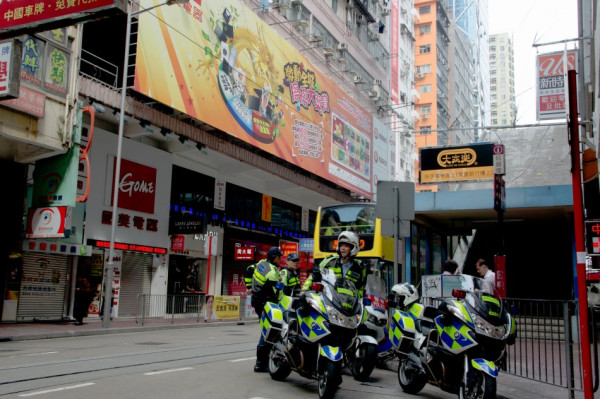 A man believed to be the boss of one of Hong Kong's biggest triads has been hacked to death in broad daylight outside a hospital near the border with the Chinese mainland.
Hong Kong police have arrested four men aged between 18 to 30 over the killing of the alleged criminal gang affiliate, identified only by his surname as Tse.
Tse, 30, also known as Ah Shing, was coming out of the North District Hospital in Sheung Shui, where he had been treated for a leg injury, when two masked men attacked him with an axe and meat cleaver.
Dozens of onlookers watched as they struck him at least 10 times before driving off. One blow disembowelled the man, witnesses told local newspaper the Standard.
"It was horrible. His belly was wide open and his intestines were hanging out," one witness said.
Tse reportedly staggered around clutching his guts before collapsing. He was taken back to hospital but pronounced dead.
"Police officers sped to the scene and found the man lying unconscious on the ground," detectives said. The victim sustained multiple wounds, one of which was said to be 30cm (1ft) long.
Forensics officers were examining a smartphone and a gold bracelet police found at the scene together with Tse's walking stick, shoulder bag and a pair of glasses.
Police sources told The Standard that Tse was a senior member of the told Wo Shing Wo triad society, a longstanding Hong Kong-based criminal organisation involved in extortion, drug trafficking, gambling and prostitution.
About 100 people, believed to be family members and gang associates, reportedly burned incense and offered prayers as part of a mourning vigil outside the hospital.
The incident echoed the killing of triad boss Lee Tai-lung, who was run over by a car and then stabbed to death in front of Hong Kong's Shangri La luxury hotel in 2009.