A horrified mother and father watched their toddler son die on New Years Eve after he was crushed by a man who fell from a building in a suspected suicide.
The 39-year-old man, said to have been a construction worker, died at the scene after plunging from the eighth floor of a residential building in the south eastern Ukrainian city of Zaporizhia.
The 21-month-old boy died in an ambulance as paramedics desperately tried to revive him.
Police have opened an investigation into how the man came to fall from the building, local media reported.
The boy's mother, Anna Polishchuk, was reportedly saying farewell to her parents after a New Year's Eve party at the time of the incident.
"I heard a loud thump and then the boy's mother rushed out," neighbour Sergey Borisov said, as reported by the Daily Mail.
"She ran to the ambulance where paramedics were seeking to save the child, and understood everything instantly.
"I had to shut my windows because there was so much agonising pain in her screams. I just couldn't bear hearing them."
The boy's father, who has not been publicly named, reportedly witnessed the moment his young son was crushed.
Senior paramedic Vitaly Reznikov said: "The man who committed suicide fell right onto the boy. The toddler crumpled from the strength of the hit. We tried to reanimate his heart and lungs. But the boy died inside the ambulance."
The dead man has only been named as Yevgeny, a construction worker who was a neighbour of the toddler's relatives.
A police spokeswoman said: "We are investigating the reasons that pushed the man to suicide. We are checking if he could have been drunk, or if there were other reasons that made him do this."
Tributes were left on the mother's Facebook page after news of the death spread.
One user, Yana Yankan, wrote: "My heart is crying with you. My condolences. I will pray for you and your angel."
Another, Lina Holoshchapova, said: "I just can't sleep here, weeping for you. No words can help you, I know, but feel me with you. I am also a mother and my God this is impossible to comprehend."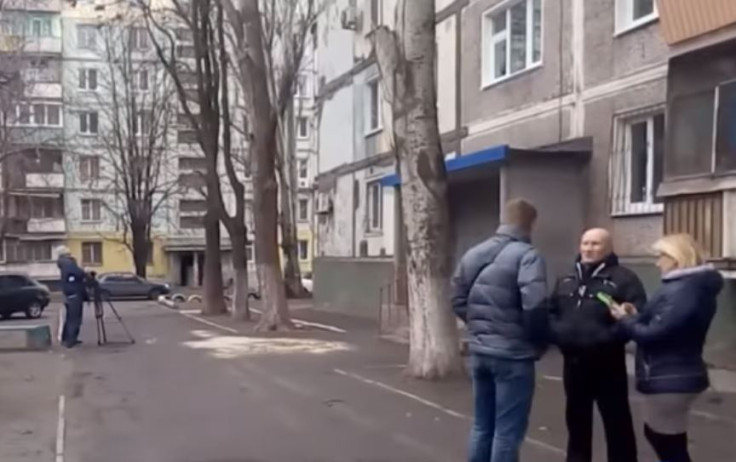 ---
The Samaritans provides a free support service for those who need to talk to someone in the UK and Republic of Ireland. Visit Samaritans.org or call 116 123 (UK) or 116 123 (ROI), 24 hours a day, 365 days a year. Visit this website to find a support phone number in your country.