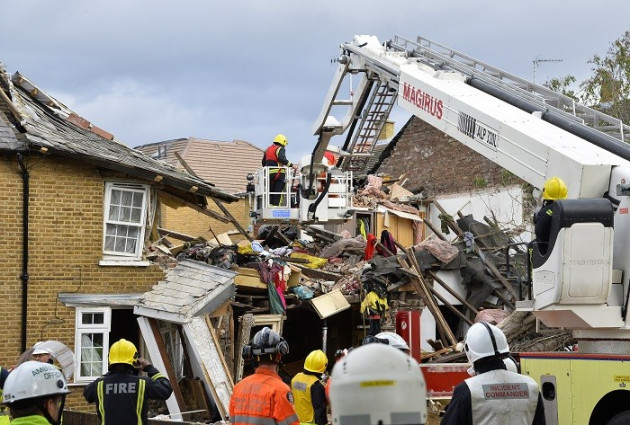 The two people killed following a suspected gas explosion in Hounslow during storm St Jude have been named.
Suhail Akhtar, 46, and his girlfriend Dorota Kolasinska, 34, were found among the rubble following the explosion in west London in which three houses were destroyed and two more damaged.
Three others were injured in the blast; one of them remains in hospital suffering from burns to the hands.
The bodies of Akhtar, an IT contractor, and Kolasinska, a traffic light sequencer for Hackney Council, were removed from the property once emergency services made sure no other homes would collapse following the blast.
Five people and three dogs escaped from the properties before firefighters arrived at the scene in Hounslow.
Twenty five people were evacuated from surrounding properties as a precaution following the explosion.
Sheldon Hawkshaw, 42, a close friend of Akhtar, said he was "in shock" at the news of his death.
He told the Evening Standard: "I spoke to him nearly every day.
"We went skiing together, motorcycling every weekend - he was very active, always in the gym.
"He was a go-to guy. He always had time for everyone, he was a great friend to us. He always made us laugh and will be sorely missed."
It is believed Akhtar was bedridden at the time of the explosion as he was recovering from a leg injury following a motorcycle accident.
Kim Wright, corporate director of health and community services at Hackeny council, described Kolasinska as an "extremely popular and hard-working member of the team".
She added: "This is a truly tragic incident and our thoughts and sympathies are with Dorota's family, friends and colleagues."
A Met Police spokesperson said the next of kin had been informed and a post mortem examination is due to be carried out.
London Fire com Ron Dobson, said: "My thoughts are with the friends, family and loved ones of those who lost their lives."
Their deaths were among four people in the UK who were killed as a result of St Jude. In Kent, 17-year-old Bethany Freeman was killed after she was crushed by a falling tree while sleeping in a caravan.
The search continues for 14-year-old Dylan Alkins, who was swept out to sea in East Sussex.
Donal Drohan, 51, was killed after a tree fell on his vehicle in Watford. David Cameron described the loss of life as a result of Jude's storm as "hugely regrettable".
At least nine people have also been killed in northern Europe as St Jude swept across the continent.