The latest teaser for the upcoming fourth instalment of political drama House Of Cards brings back strong memories of seasons, and characters, that have come before it. In the recently-released trailer from Netflix, the 25-second clip begins on the image of some flowers lain on a train track, instantly making fans of the show think back to when now-President Frank Underwood pushed journalist – and his lover – Zoe Barnes in front of speeding subway train.
The camera pans up the walls behind the track to reveal a presidential poster brandishing Underwood's smiling face with the eerie tagline: "Putting America back on track." You just about have time to read the slogan before a train hurtles past, disturbing the ominous silence, with the poster still visible through each passing window. The clip finishes with the show's logo and title appearing on screen.
It's hard to know just what the trailer means, whether its simply a case of reminding followers of the series what Underwood has done to get to where he is or it's a foreshadowing of events to come. Considering that at the end of season three he sacked his biographer Thomas Yates after he seemed a little too keen about digging up dirt on the president, and the fact that his wife Claire had decided to leave him, murder might, again, be on the cards.
The first teaser trailer to be unveiled saw Kevin Spacey's Underwood deliver a particularly moving speech directly to the camera, as he quite often did throughout the series. Similarly to the latest snippet, it drew comparison to older series with each line of his seems to draw direct parallels to significantly memorable events that have happened in the past, such as Underwood murdering Congressman Peter Russo or when he urinated on his father's grave.
It's no secret that the slightly slower third season of the hugely popular show, whilst still very successful, wasn't as unanimously loved as its first two. With that in mind, perhaps the writers have been keen on getting the show back to how it used to be, with more dramatic moments and are demonstrating this through the new promotional material. Or maybe they're just simply using touches from past storylines to attract viewers back in. We won't know until the next season lands on Friday 4 March.
Both trailers that have been released so far have seemed firmly tongue-in-cheek with their playful puns and are completely reliant on the fact that fans that are watching them have seen the previous seasons. As well as Underwood's presidential slogan "Get America back on track" with a reference to Barnes before it, the first teaser ended with a link to Underwood's campaign website, which went by the URL FU2016.com. We sure there's some kind of subliminal message from the corrupt character in there somewhere... Hint: *They're the only two letters in red, coincidence, we think not.*
Underwood's ruthless and often, dismissive nature when it comes to being right is almost laughable now that we're all well aware of what he's like. But there's something eerily sinister about a man who claims to be "the leader America deserves" when both we, and he, know he isn't. We can't wait to see what season four has in store for all those who cross him.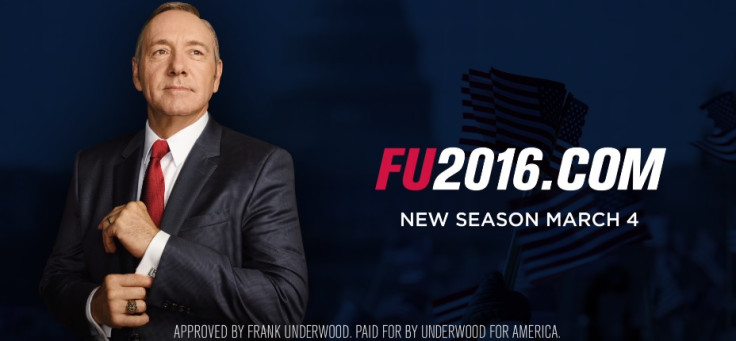 For more entertainment news follow A-List on Twitter @Alistinsider