Netflix's political drama House of Cards will be back with season 5 on 30 May wherein Kevin Spacey and Robin Wright return as President Frank Underwood and his wife Claire Underwood, respectively.
Spacey teased the upcoming season of the Netflix series while appearing on Late Night with Seth Meyers show. He told the host that President Underwood is "just using fear to get votes".
When asked how season 5 will resonate in President Donald Trump's America, Spacy said, "What's interesting is that there are people who watch the show and even that, as an example, last year and thought, 'Oh that's crazy. That could never happen.' And then suddenly 18 months later it's like, 'Oh, wait a second. That actually could happen.' Or it is happening. I think that we're scarier than we've ever been before."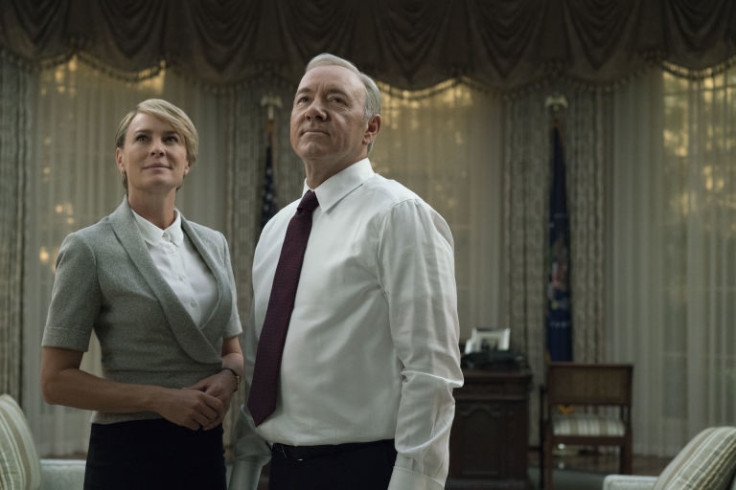 Robin Wright joked that political reality has become stranger than fiction. Wright said at Cannes, "He's [Trump] stolen all of our ideas for season six."
"I've got to see the hope somewhere," she said, before adding she wanted to see Michelle Obama take the top job someday. "I think she'd make a great President."
The fifth season will find Frank is still in power but is hanging on a thread following the increasing popularity of Republican rival Will Conway (Joel Kinnaman). With public support dwindling, Frank will incite the flames of chaos, by waging war with a terrorist group in a bid to create fear and retain his presidency.
In the trailer released, we see Frank explaining his views about American people to his wife, Claire. He tells her, "The American people don't know what's best for them. I knew, I know exactly what they need. They're like little children, Claire. We have to hold their sticky fingers and wipe their filthy mouths. Teach them right from wrong. Tell them what to think and how to feel and what to want."
He continued, "They even need help writing their wildest dreams; crafting their worst fears. Lucky for them, they have me. They have you. Underwood 2016... 2020... 2024... 2028... 2032... 2036... One nation; Underwood."