Making personal flight vehicles possible is clearly a 2017 goal – now a Russian firm has announced that it is developing a hoverbike quadcopter to carry a single passenger.
Hoversurf, a start-up with offices in Moscow and San Francisco, has developed the Hoversurf Scorpion, a single-seater vertical take-off and landing (VTOL) quadcopter drone that looks a lot like the podracers raced by young Anakin Skywalker in Star Wars Episode I: The Phantom Menace.
The big key difference is that while the Star Wars podracers were powered by turbine, ion or rocket motors linked together by plasma energy binders situated a distance in front of the pilot's cockpit, the Hoversurf Scorpion instead features four large rotors situated at knee height, right in front and behind the seat, and there are no propeller guards.
Hoversurf have published a video showing a successful test flight of the Hoversurf Scorpion. The pilot sits astride the hoverbike and leans forward, placing elbows flat on the surface in front of him.
To control the hoverbike, the pilot manipulates two joysticks, pushing them forwards to accelerate and angling them to turn left or right.
Hoverbike test flight in an abandoned factory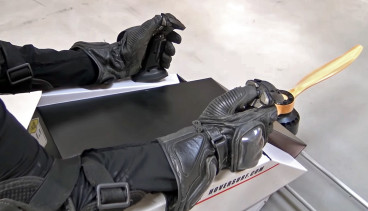 The test flight takes place inside a deserted factory and the vehicle is shown being able to travel a distance of about 50m, at a height of at most about 10ft, but we're just approximating this from the video.
Hoversurf hasn't really provided any technical detail about the Hoversurf Scorpion, except to state that its personal flight vehicle is designed to cope with extreme weather conditions and that it employs in-house custom software enabling full manual and automated control of the hoverbike.
The start-up also states it has created a safety system for the hoverbike that consists of state-of-the-art flight controllers, special logical programming and sensors that gauge altitude and speed and enable the computer to limit both these traits.
Finally, Hoversurf even recommends that pilots wear special motocross boots, trousers, jersey, knee pads, gloves, a chest protector, an eye guard and a helmet when riding the Hoversurf Scorpion. That's great, but what about the glaringly obvious huge safety hazard from the exposed propellers, which are not facing downwards, as they are on any other similar drone-based flying machine? New Atlas' Loz Blain put it best when he said, "the Hoversurf Scorpion is a motorcycle-styled hoverbike with four high-speed props mounted right at leg-amputation level".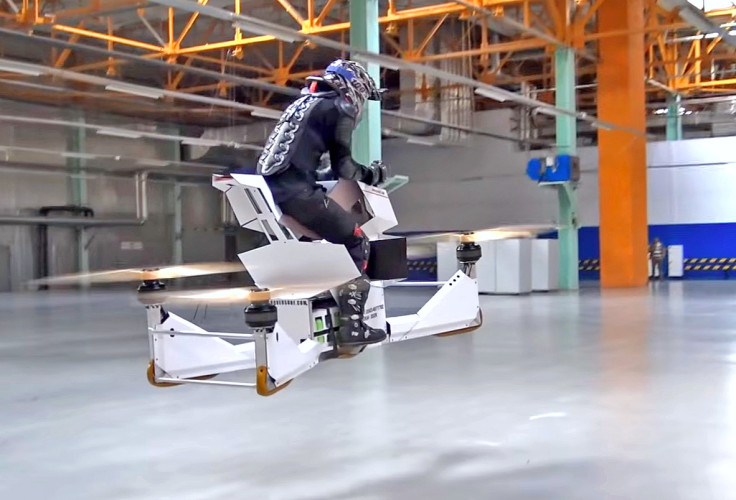 Other personal flight vehicles being developed
There's a race to make personal flight vehicles possible and everyone from hobbyist inventors to start-ups to even major aerospace companies are now getting involved and hoping to be the first to commercialise the technology.
First, there's Flike, a personal flight vehicle designed by the Hungarian government's research institute Bay Zoltan Nonprofit. Flike is a tricopter that can carry a total weight – including payload – of 240kg. In April, Flike completed a successful manned test flight where it was able to hover and manoeuvre in the air while compensating for the wind, for 90 seconds.
There is also the Hoverbike by UK firm Malloy Aeronautics (which is now being developed as an umnanned drone, not a flight vehicle); the Quadro UAS personal flight vehicle built by Dutch UAV engineer Thorstin Crijns which carries 110kg of weight (including a 59kg payload); and the Volocopter VC200 – a two-seater multicopter that can carry a 450kg payload by German firm e-volo, which features technology from Intel-owned Ascend Technologies and has been endorsed by Nasa.
Universities around the world are researching personal flight – the National University of Singapore (NUS) has built the Snowstorm multicopter drone which can carry a payload of 70kg and can stay in the air for five minutes; and the University of Oslo in Norway set a new Guinness World Record in January for the heaviest payload ever lifted by a remote-controlled multicopter drone, with plans to next test carrying a human into the air.
And most recently, even French aerospace manufacturer Airbus is throwing its hat into the ring with it's own VTOL one man personal flying car being developed in Silicon Valley by its venture capital division A3.