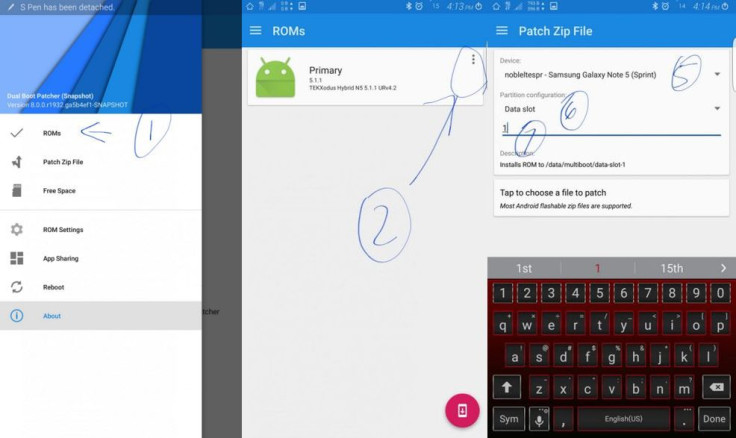 If you prefer ROM over the stock version on your Galaxy Note 5 and are into the habit of switching between different custom builds, you might consider enabling multi boot. Once enabled, multi boot makes performing a Nandroid backup before flashing a new ROM less of a pain.
XDA forum member 54NJ41 has posted a detailed guide and the Dual Boot Patcher zip through which you can get multi boot on the Note 5. He confirmed to have tested the method on SM-N920C of Note 5, but says this will work on other variants also.
"Main advantage of this is you can try any new ROM without loosing or having any kind of trouble with your existing ROM. This mod will not change anything in your primary ROM, so anytime you can go back to your normal state," notes the developer.
If you experience issue with this method, you can always flash the Multi_Boot_cleaner to revert. This utility will wipe all the files from system and restore the primary ROM kernel.
Check out the following guide to install multi boot on Galaxy Note 5. Remember that your phone should be rooted with latest custom recover: either TWRP or Philz. Also, do not forget to create a backup if you are doing this for the first time. You should free up some space from the internal storage.
Note that neither the developer nor IBTimes UK will be held liable for any damage to your phone. Proceed at your own risk.
How to get multi boot on Galaxy Note 5
Download the custom ROM of your choice, you want to use for multibooting. Also download the add-ons, kernel for the same, and save the downloaded files in your phone's storage.
Download and install Dual Boot Patcher on your Note 5
Open Dual Boot Patcher and grant SU permission. You should see your primary ROM under ROMS. Now press the 3 dot menu and click set kernel
From Dual Boot Patcher go to Patch Zip File and choose nobleltespr – Samsung Galaxy Note 5 from the drop down mwnu
Select Data Slot from the Partition configuration drop down menu
You will need to enter the ID for the secondary ROM (Example 1, 2, 3, etc. – it will take it as /data/multiboot/data-slot-1)
Tap the below button to ROM's kernel and mods to patch them
Keep the same slot for the kernels and mods same as the ROM
Press tap to begin patching button to patch the file. You should get a new patched zip file
Patch the kernel for ROM with same ID
Boot the phone into custom recovery and flash the new patched ROM then the patched kernel without wiping anything. At last reboot
Your Note 5 will now boot into the new ROM
Install Dual Boot Patcher app and set kernel for the second ROM
Launch Dual Boot Patcher app/ROM then click on primary or secondary ROM and reboot
Head over to the XDA development thread to know more about multi boot for Note 5.