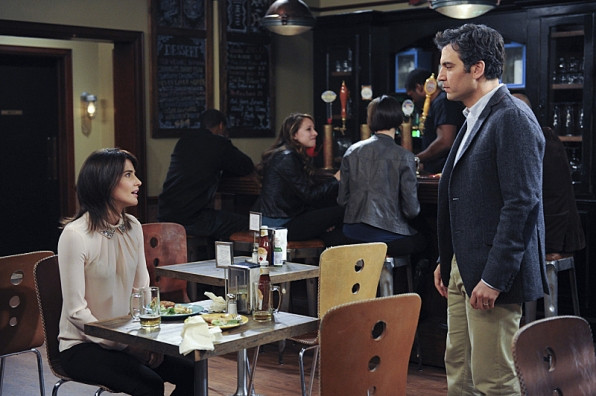 Even though How I Met Your Mother Season 9, episode 22 'The End of the Aisle' brought some closure to the Ted-Robin romantic equation, it may just have dropped a huge hint regarding the former lovers' future.
It remains to be seen whether the following was intentional or just a coincidence:
During Robin's big freak-out moment before the wedding, she argues with Ted that maybe Barney is not the right guy for her and that every big sweet gesture that's he has ever made for her, has been based on lies.
While talking about all the big, scary doubts she has about marrying Barney, she says:
"You know what 'legendary' means? It means not real"
However, everything gets sorted out during the course of the episode. Towards the end, the wedding scene has Pearl Jam's Future Days playing in the background as Future Ted's voiceover describes how a lot of things, both before and after the wedding, didn't go all that smoothly.
The voiceover ends with him saying, "The wedding was legendary."
Maybe there's nothing to it or maybe there is. Will there be any connect to Robin defining 'legendary' as 'not real' and Ted using that word about the wedding?
Meanwhile, Alyson Hannigan has promised How I Met Your Mother fans that all of their questions will be answered in the finale episode, reports Mirror.
Speaking on Jimmy Kimmel Live, she said of the comedy season's finale:
"I think the writers really wrap the show up the way the fans would want it to be wrapped up."
"They're going to answer all the million questions that everybody has and more," she added.
The finale episode, of HIMYM 'Last Forever' airs on Monday, 31 March in the US. Season 9 airs Thursdays at 8.30pm on E4 in the UK, with the finale expected to arrive July 2014.