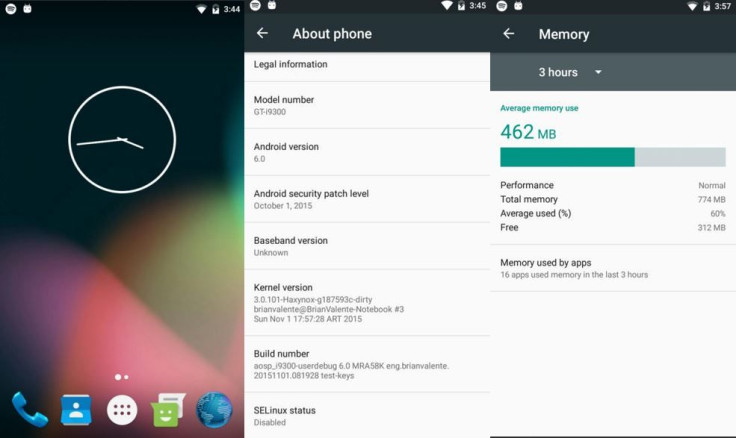 An AOSP custom build is now available for the international model of Samsung's older Galaxy S3 smartphone allowing users to experience Android Marshmallow; an update which will never be official as the phone's hardware configuration is not capable of receiving further Android support.
The AOSP ROM posted at the XDA forum, is built from the AOSP port by Haxynox team. Most of the features such as boots (without sd card), touch screen, Wi-Fi, rotation, USB OTG, camera, sound, Bluetooth and screenshots are working in the ROM, except a few such as screen colours, RIL and sd card. Forum member, brianelv, who has shared the ROM, says he is yet to test the GPS functionality.
If you still want to take a risk and try out the beta AOSP release, head over to the installation guide below. Do not flash the ROM on any variant other than I9300. Also, do not forget to create a backup of all data of the phone.
Download files
Gapps (or Gapps fix if it is required)
How to install AOSP Android Marshmallow ROM on Galaxy S3
Step 1: Copy the downloaded files to the phone's storage and remember the location. Unplug the phone from the computer
Step 2: Boot the S3 into recovery mode. You might use the Quick Boot app from the Play Store to place the phone in recovery mode. Just download and install the app on your phone. Then launch it and follow the on-screen prompts to boot into recovery. Alternatively, use the following hardware key combinations:
Switch off the phone and wait for the device to go off completely
Press the Volume Up, Home and Power buttons together
Step 3: In recovery mode, create a Nandroid backup of all data of the phone. From recovery mode menu select Backup, then do a swipe at the bottom of the screen to confirm the process
Step 4: Once the backup is complete, perform a full data wipe. Select Wipe, then Advanced wipe, and then select Dalvik Cache, System, Data and Cache. Now do a swipe on Swipe to wipe option
Step 5: Return to the recovery menu and tap Install; go to the folder where you have saved the CM13 ROM, tap on it and do a swipe on the Swipe to confirm flash option
Step 6: Once the ROM is installed, repeat the process to flash Gapps
Step 7: After the installation process is completed, select Reboot system to restart the phone
Upon successful installation you should be able to taste Marshmallow flavour on your phone. If you come across any issues, hit the XDA development thread to know more about the ROM.