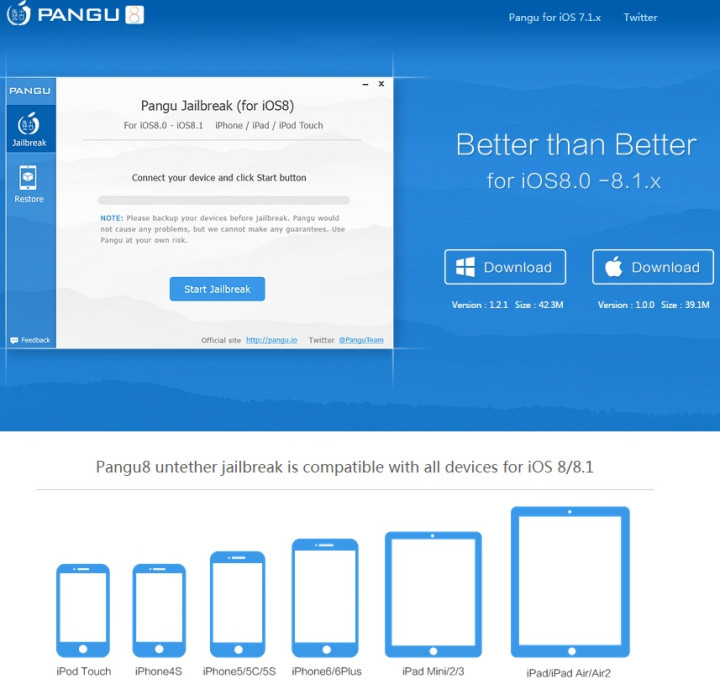 The Pangu team has just confirmed the availability of Pangu8 1.0.0, the first Mac version of their jailbreak tool for Mac OS X. Mac users can now jailbreak their iOS 8/iOS 8.1 device.
If you are a Mac user, head over to the jailbreak guide below to install Pangu8 1.0.0 on your device.
Pangu8 is an untether jailbreak and supports all devices running iOS 8-iOS 8.1 such as iPhone 6, iPhone 6 Plus, iPhone 5s, iPhone 5c, iPhone 5, iPhone 4S, iPad Air 2, iPad Air, iPad 4, iPad 3, iPad 2, iPad mini 3,iPad mini 2, iPad mini 1st generation and iPod touch 5g.
Points to remember
Pangu8 1.0.0 for Mac supports all the devices running iOS 8-iOS 8.1.
Before jumping directly to the jailbreak process, create a backup of all data of your iOS device using iTunes.
This tutorial is meant for Mac users only. For Windows version, click here for help.
Ensure that your iOS device has charge above 80% to avoid power issues during the device.
IBTimes UK reminds its readers that it will not be held liable for any damage to the device.
How to jailbreak iOS 8/iOS 8.1 using Pangu8 1.0.0 on Mac
Step-1: Download Pangu8 1.0.0 for Mac
Step-2: Connect your iOS device to the PC using the USB cable
Step-3: Navigate to Settings>> iCloud>> Find my iPhone and turn it off. Enable Airplane mode and disable Passcode from Settings>> Touch ID & Passcode
Step-4: Right click on Pangu dmg file. It will inform that Pangu8 in an application downloaded from the Internet. Click on Open button to proceed
Step-5: Pangu jailbreak will take some time to detect your iOS device. Once it detects, click the blue button saying Start Jailbreak
Step-6: If you have already backed up your device using iTunes and followed other instructions (in step-3) then click on Already Did option to proceed further
Step-7: The jailbreak process will start and display the following status
Starting jailbreak
Transferring resources for jailbreaking
Preparing the environment
Waiting for the device rebooting
Preparing the environment
Injecting
Jailbreaking
Final Cleaning
During the jailbreak process, your device will reboot several times, don't worry as this is a normal process.
Step-8: When he process is completed, you will get a confirmation that Jailbreak Succeeded. The Cydia icon should then appear on your home screen
Step-9: After the successful jailbreak, you can disable AirPlane mode and re-enable Passcode and Find my iPhone
Your iPhone/iPad/iPod touch running iOS 8-iOS 8.1 should now be jailbroken successfully using Pangu8 1.0.0 on Mac.
Trouble issue
If you have installed iOS 8 or iOS 8.1 via OTA update and the jailbreak is not successful, then perform a fresh installation of the iOS firmware by restoring the device using iTunes. Check here for the download links of the latest iOS 8 firmware.
[Source: iPhone Hacks]