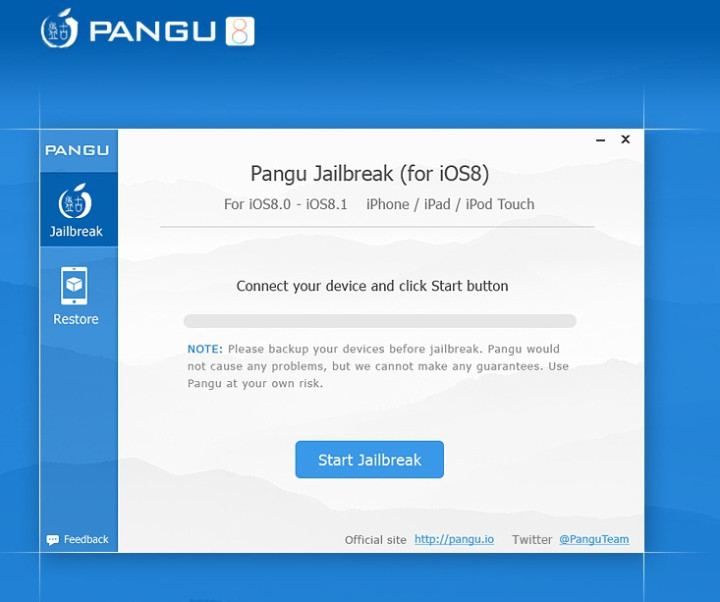 The Chinese jailbreak Pangu team has released the most anticipated Mac version of pangu8 jailbreak.
Last month, the team issued an update to their jailbreak tool but that was in Chinese and supports only Windows. Earlier this month the team updated the Pangu8 version bundles with Cydia and English support.
But now the Mac version of the jailbreak tool is available for those who have been eagerly waiting for it. The Pangu team has also confirmed the availability of the first Mac version Pangu8 v1.0.0 via Twitter.
Pangu8 untether jailbreak is compatible with all the devices running iOS 8 or iOS 8.1.
Compatible devices
iPhone 6, iPhone 6 Plus, iPhone 5s, iPhone 5c, iPhone 5, iPhone 4S
iPad Air 2, iPad Air, iPad 4, iPad 3, iPad 2
iPad mini 3, iPad mini 2, 1st generation iPad mini
iPod touch 5g
The Pangu8 v1.0.0 for Mac installs the latest version of Cydia v1.1.6, asserts iPhone Hacks. The Pangu team released Pangu8 v1.2.1 with Cydia 1.1.6 fixing the booting issues faced by a number of users after they restored their devices from backup.
Given below is the download link to Pangu8 v1.0.0, weighing 39.1MB, for Mac users.
Pangu8 v1.0.0 for Mac or, Mega file