How one father fled South Sudan's brutal war - and saved five orphan children
The war is tearing families apart, but new ones are created during the dangerous escape to Uganda.
The brutal civil war in South Sudan is tearing families apart and has prompted more than one million children to flee the country since the conflict erupted in 2013.
As fighting between opposing forces continues to wreck havoc in the nation, children continue to flee. The majority of them cross into neighbouring Uganda, which has welcomed at least 950,000 South Sudanese refugees, becoming the nation hosting "more refugees than any other country in Africa", according to the UN.
The journey is neither easy nor safe. People hide in the bushes with little or no food and water for weeks, even months, as deadly ambushes and fatal kidnappings are a daily occurrence.
Fleeing civilians are routinely robbed and beaten, but many are also raped and killed.
During the perilous escape, children who flee alone or whose parents have been kidnapped or killed along the way, meet other people – sometimes distant relatives or family friends – whom they continue their journey with.
By the time the reach Uganda, their vicissitudes and common traumas, as well as hopes for the future, create a strong bond that continues to exist on the other side of the border.
World Vision, one of the NGOs helping the Ugandan government cope with the refugee influx, helps identify refugees who can foster unaccompanied children.
"We work to identify foster families, but usually people develop a strong bond during their journey to Uganda and sometimes children are assigned to other refugees they travelled with," Richard Duukii, child protection facilitator at World Vision Uganda, told IBTimes UK.
This was the case for Nadal, a 16-year-old boy who fled South Sudan with his younger brother and three sisters after his house in the capital Juba was destroyed by bombs, while his parents were still inside.
"People were running, and I joined with my brother and sisters. We walked for three weeks, maybe one month with no food and no water. I carried one of my sisters on my shoulders during most of the journey," he told IBTimes UK.
"As we were fleeing, I felt I was responsible for them, I made sure we were all together, even when we were tired, I made sure we kept walking."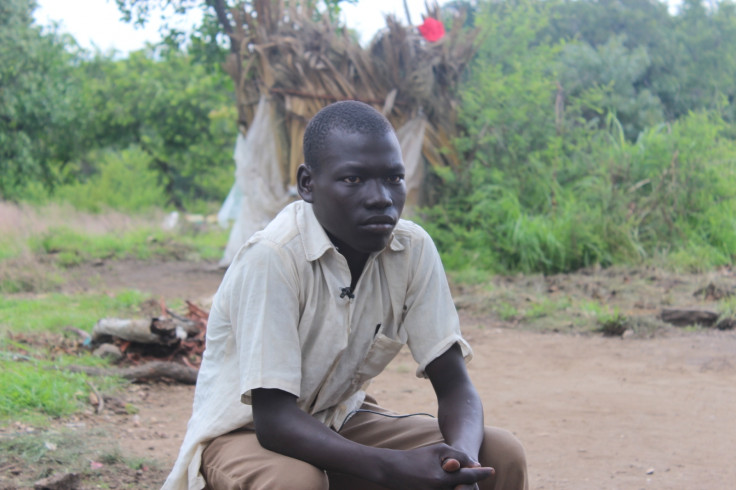 Nadal and his siblings met their future foster parents on their way to Yei, a town in South Sudan's southwest. They walked together to Uganda, where they now live in a shelter on a plot of land at the Impevi refugee settlement, provided by the Ugandan government.
Nadal is happy with his new family, but memories of his parents still affect every day of his new life in Uganda.
We walked for three weeks, maybe one month with no food and no water. I carried one of my sisters on my shoulders during most of the journey
"My parents were hardworking people and in the evening we would sit together. I want to go back to South Sudan after I obtain high quality education in Uganda and then I want to take over my father's job - he was a doctor," he said.
Nadal is grateful to World Vision and the Ugandan government for their support, but life as a refugee is not easy as Uganda is struggling to cope with the huge influx and humanitarian organisations face a funding shortfall.
"We don't have enough food rations, sometimes we sell our food rations to buy soap. We need uniform for schools and school fees support," he explained.
Nadal's foster father - 'My daughter was kidnapped, but better times will come'
Despite the lack of resources, trauma and economic hardship, Nadal's new father, Ben Lam, welcomed Nadal and his siblings and treats them as if they were one of his own seven biological children.
"I could not leave them behind. I knew how the situation was and for them as children, they could not [survive] alone," Lam, a former county administrator for the Sudan People's Liberation Movement (SPLM) – South Sudan's governing party – explained.
"When we reached the border we were exhausted with no money left. The military found us and sent us to the [Imvepi] reception here."
Although Lam's family has grown larger, there is one person missing, as one of his daughters was kidnapped by rebels in South Sudan.
"At the time I was at work. Since the abduction, they gave been calling me [to go and take her back], but I did not have any other option because I would be also abducted and leave my family behind. If God wishes to keep her alive, she is alive," he explained, with teary eyes and a broken voice.
Lam had already experienced life as a refugee in Uganda during the turbulent times in Sudan that eventually led to the breakaway of the southern part of the country and the birth of South Sudan in 2011.
"In 1994 I was living in a refugee settlement in Uganda and in 2005, when they [warring sides] signed [a] peace agreement, we were all happy and ran back. And then it happened again," he explained.
"When the war happened [in 2013] I blamed myself and asked myself what made me leave Uganda. This war created enmities, and this is the reason why I cannot go back, even if the conflict ends. If my family wants to, I will not stop them," he continued.
"We are in a safe place here, we can sleep at night and we can eat and life is going on. A better time will come, provided that we are alive. We share the little we have now."
---
IBTimes UK travelled to Uganda courtesy of Word Vision UK
---
© Copyright IBTimes 2023. All rights reserved.