Although South Sudan is no longer in a famine state, millions of people still face hunger in the war-torn nation, the World Food Programme (WFP) has told IBTimes UK.
Earlier this year, a "man-made famine" caused by the ongoing civil war was declared in South Sudan's Unity State – in the upper Nile region – with the UN and NGOs warning at least 100,000 people were facing starvation and millions across the country were hit by food insecurity.
On 21 June, the UN said the famine – the first to be declared in any country since 2011 – had been tackled.
"So the good news is that the two areas where famine was officially declared, Leer and Mayandit, are no longer in famine. The bad news is that the new report shows that in other areas conditions are worsening," Jane Howard, a spokesperson for WFP, told IBTimes UK.
The UN agency attributed the ability to tackle the famine in South Sudan to a new approach that involved the use of "emergency mobile teams" to reach people in remote areas, delivering aid to at least 1.1 million people.
However, the humanitarian situation is still dire in the country, where more than 2 million people are internally displaced and several areas are on "the brink of a catastrophe", WFP said. More than one million people are still living in extreme hunger, one level below famine.
"Overall, the number of people facing emergency levels of hunger has gone up and a record 6 million people – half the country's population – don't know where their next meal will come from. It's staggering and distressing to think of the suffering of so many individual families," Howard said.
She added WFP still needs $120m (£94m) to provide food and nutrition assistance to people from June to November.
"This famine was man-made. Aid from relief agencies alone will not save South Sudan in the absence of peace and political stability," Howard added.
The same fears were echoed by NGOs working on the ground, including Oxfam and World Vision.
"While we applaud the success of the humanitarian community in responding to the famine-affected areas of South Sudan, it is vital that assistance is not slowed or down-scaled. If this happens, these areas could easily slip back into famine again. Higher levels of food insecurity will continue to spread to other areas of the country – putting at risk the lives of millions of the most vulnerable people, particularly children," Perry Mansfield, National Director of World Vision in South Sudan, told IBTimes UK.
"The crisis in South Sudan is by no means resolved. Severe food insecurity is still spreading, and at a higher rate than originally projected by analysts. So the needs are still immense and require the continued support and generosity of the international community to save lives," he continued.
The South Sudan conflict erupted in 2013 when President Salva Kiir, of the Dinka ethnic group, fired his deputy Riek Machar – from the Nuer group. Machar then became a rebel leader.
Fighting has killed an estimated 50,000 people, amid allegations of crimes against humanity committed by both sides, including rape, torture and the use of child soldiers. The UN has repeatedly warned the country is on the verge of a Rwanda-style genocide.
Kiir and Machar have agreed on several peace deals – the last of which was signed in August 2015 – but have failed to control their troops, who have broken every ceasefire since 2014.
Earlier this year, the government declared a unilateral ceasefire to promote peace. However, earlier in May, rebels loyal to Machar rejected the government's offer of dialogue.
---
South Sudan war and famine: World's newest nation sparks Africa's worst refugee crisis
---
Refugee crisis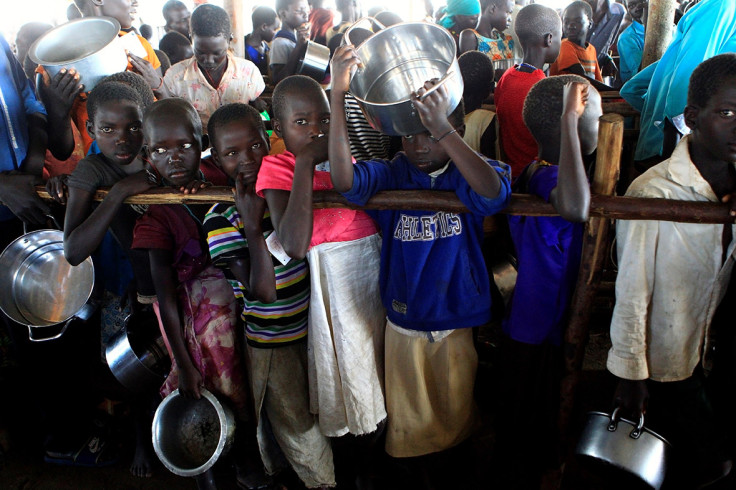 According to the UN, at least 1.87 million people have fled to neighbouring countries, mainly Uganda, since the conflict erupted in South Sudan in 2013. The mass exodus has been deemed "Africa's worst refugee crisis".
Every day, more than 2,000 South Sudanese, the majority of whom are children, arrive in Uganda, which the UN said it is now hosting "more refugees than any other country in Africa". The Unicef has estimated at least 1.25 million South Sudanese people have fled into Uganda since 2013.
World leaders, the UN Secretary-General António Guterres, and heads of UN agencies including WFP are meeting in Uganda to attend a donor summit aiming to raise $8 bn in aid over the next four years .
"It costs WFP $19m every month to feed around 1 million refugees in Uganda. While we are extremely grateful to our donors, funding has not kept pace with the quickly growing refugee population. WFP urgently needs $63 million for the next six months to meet basic food needs," Howard said.