Owners of Samsung Galaxy S6, Sony Xperia Z3 and a bunch of other Android smartphones running Android 2.x through Android 5.x can go ahead and root their device using KingRoot (one-click rooting tool) from XDA Developers' senior member, Kingxteam.
KingRoot 4.1 fixes many logical implementations for Sony devices, while extending support for a bunch of Samsung, Google/Nexus, HTC, ZTE, Sony, LG and Huawei devices. The complete list of KingRoot supported Android devices is posted here.
Key Points to Remember
If KingRoot finds Sony_RIC is enabled and system can't be mounted, then you need to unroot the device first. Then you can re-root it and disable RIC automatically.
Those who have already installed KingUser on their device, need to install KingUser 4.0.5 fix, before uninstalling the same. Only after uninstalling the KingUser app, you will be able to re-root the device using KingRoot tool.
In case you face issues while removing KingUser, try force stopping KingUser, perform wipe cache data and then root with KingRoot again.
There are two versions of the KingRoot tool: Mobile and desktop.
SU Binary
Su Binary will be installed in System/xbin to ensure that you can keep root access permanently.
KingUser
Just like SuperSU, KingUser will be installed in your System/app (default) or Date/app to manage your root access. Besides, KingUser will also provide some other functions that will enable you to remove apps (system) and disable auto-start items.
KingMaster
This app brings the ability to purify your system, wherein it can force apps to hibernate automatically after you have exited them, but still running in the background. It can also archive notifications for you. Kingmaster will be downloaded and installed in your data/app.
Note #1: Kingmaster and Desktop version of KingRoot are currently available in Chinese version, but no English version is available.
Note #2: The Desktop KingRoot can be flashed only with custom recovery tools and if you want to keep stock recovery then do not use it.
Note #3: If ever you lose root access, you can just re-install KingUser to get back root on your device.
Downloads Required
Steps to root any Android device with one-click KingRoot tool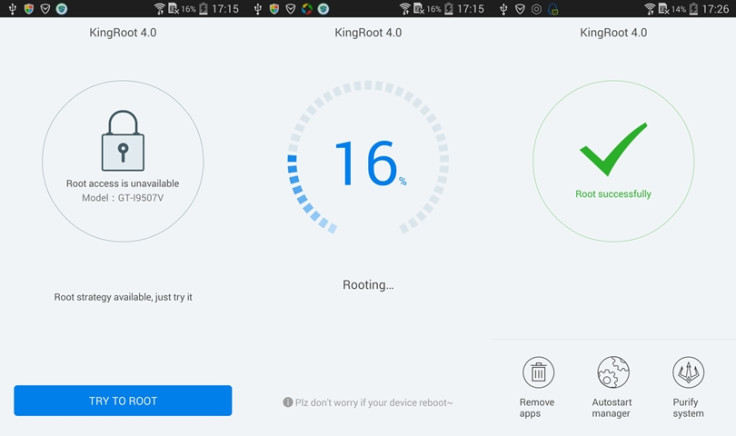 Download and install the KingRoot app as you would do with any normal app.
Launch the KingRoot app from the app drawer.
If your device is supported, then a 'Try to Root' button will appear at the bottom of the screen. Just tap this button and let the rooting process complete.
After the device is rooted, a success message will appear on the screen.
If the device is unsupported, then you will see a prompt asking you to try the KingRoot desktop version instead, for rooting your device. Just follow the onscreen instructions to root your device successfully.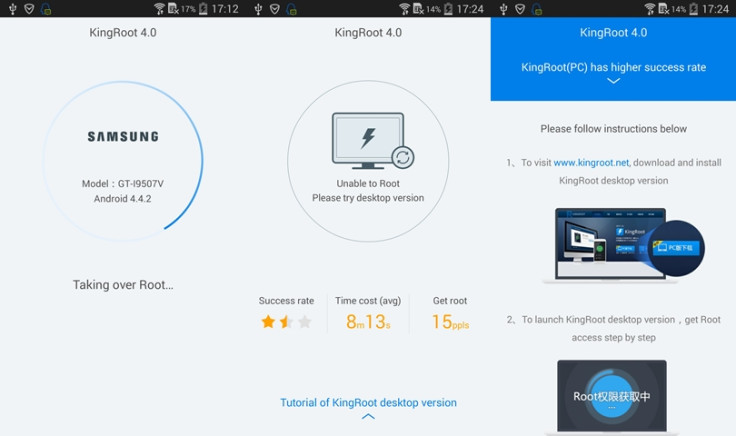 For further assistance, check out the video tutorials posted below:
[Source: XDA]