At Mobile World Congress in Barcelona, Hewlett-Packard has demoed its second attempt at entering the tablet market, the HP Slate 7.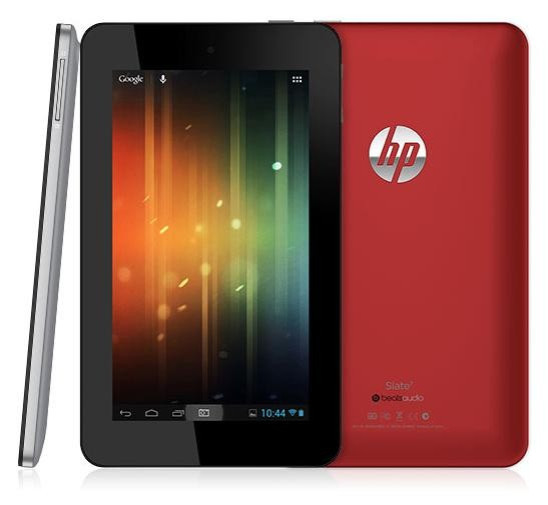 The Slate 7, which is available in grey or bright red, features a 7in, 1024x600 display, has 1GB of RAM, 8GB of internal storage, a 1.6GHz dual-core Cortex A9 processor, a 3-megapixel rear-facing camera and a VGA front-facing camera.
It's powered by Android Jelly Bean version 4.1 and includes HP's ePrint app by default, allowing easy wireless printing to any compatible Hewlett-Packard printers.
Other than the business orientated ElitePad 900, the Slate 7 is Hewlett-Packard's first tablet since the failed TouchPad, which used the company's webOS operating system and was discontinued after only seven weeks on the market following a poor consumer reception. HP is currently trying to enter the tablet market as sales of PCs continue to fall.
It was reported on Monday that HP's webOS has been purchased by LG, which plans to use it in future smart televisions.
Meg Whitman, who joined Hewlett-Packard as CEO in September, 2011, said during HP's first-quarter earnings call that the company's turnaround is "starting to gain traction" and that HP will be "bringing a number of new programs and disruptive innovations to market in the coming quarters."
HP announced the Slate 7 on 24 February, just prior to the beginning of Mobile World Congress, and has been demonstrating the new tablet on the show floor. Pocket-Lint has tried the Slate 7 and reported that it has "some concerns" citing a thick, heavy frame and poor screen quality. Gizmodo has been more positive, saying the Slate 7 feels "sturdy" and that using Android on the tablet is "fast and fluid."
The Slate 7 will launch first in the US, in April 2013 and be priced at $169 (£122). No UK or European release dates or prices are yet to be announced.