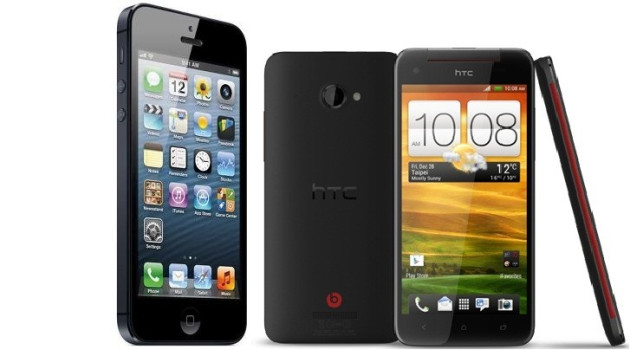 Taiwanese handset maker HTC announced its new flagship smartphone. the HTC Butterfly on 11 December at a launch event held in Taipei. HTC's latest offering boasts a 5in Super LCD 3 display with 1080 x 1920 pixels, which is a higher resolution display than Apple's iPhone 5.
"We are confident that HTC Butterfly will set a new example for high-end smartphones," said chief executive Peter Chou at the launch in Taipei.
The Taiwanese company claimed that the new smartphone would allow users to stream HD movies wirelessly to their TV sets, while browsing the web at the same time.
HTC's new flagship smartphone is all set to take on the iPhone 5 in the battle of high-end smartphones. There is still no word on the price and release details of the iPhone-rival in regions other than Japan.
Nevertheless, we bring you a comprehensive feature comparison of both the phones to help you decide your best buy.
HTC Butterfly vs Apple iPhone 5: Display
HTC Butterfly boasts a 5in display with a high resolution of 1080 x 1920 pixels which translates to a pixel density of 441 pixels per inch (ppi) pixel density.
On the other hand, the iPhone 5 features with a smaller 4in display with a screen resolution of 640 x 1136 pixels giving it a pixel density of 326ppi.
Both phones come with Corning Gorilla Glass protection to their display.
Verdict: HTC Butterfly clearly has the edge in the display department with a bigger and higher resolution screen, alongside greater screen-pixel- density.
HTC Butterfly vs Apple iPhone 5: Dimensions
HTC Butterfly measures 143 x 71 x 9.1mm, while the iPhone 5 measures 124 x 59 x 7.6mm. Thus, the iPhone 5 is both shorter and slimmer than its HTC counterpart. The iPhone is also 28g lighter than the HTC phone at just 112g.
Verdict: Being both slimmer and lighter makes the iPhone 5 more desirable in terms of size and portability.
HTC Butterfly vs Apple iPhone 5: Operating System
The HTC Butterfly is powered by Android 4.1 (Jelly Bean), which is upgradeable to Android 4.2..
On the other hand, the iPhone 5 runs iOS 6 that features some significant updates from iOS 5 including the much-maligned new maps app, improved Siri and Facebook integration, shared photo streams, Passbook, and FaceTime over 3G.
Verdict: There is no clear winner in the software department.
HTC Butterfly vs Apple iPhone 5: Processor and Memory
The HTC phone uses a powerful 1.5 GHz quad-core Qualcomm Snapdragon S4 (Krait) processor with 2GB of RAM. HTC promises that users will be able to surf the internet, while streaming HD videos simultaneously.
In contrast, the iPhone 5 runs on the new quad-core A6 chip, which the company claims to deliver twice the CPU and graphics performance, while using just 1GB of RAM.
Verdict: There is still no clear winner in this category, as the HTC phone is yet to be tested with real-time benchmarks. Though, the quad-core processor with 2GB of RAM on the HTC Butterfly may slightly tilt the scales in its favour for multi-tasking and memory intensive tasks.
HTC Butterfly vs Apple iPhone 5: Connectivity
When it comes to connectivity, both the devices support Wi-Fi 802.11 a/b/g/n, Wi-Fi Direct, DLNA, Wi-Fi hotspot and Bluetooth v4.0 with A2DP. Although, the HTC phone has a slight edge with NFC support that is absent on the iPhone.
Verdict: With the addition of NFC capability, the HTC Butterfly is surely a step ahead of the iPhone 5.
HTC Butterfly vs Apple iPhone 5: Camera
Both the devices offer 8 megapixel rear cameras with auto-focus and LED flash, as well as providing simultaneous HD video and image recording capability at 1080p resolutions with a maximum recording speed of 30 frames per second (fps).
The iPhone 5 features a 1.2 megapixel camera that offers 720p recording at 30fps. It comes with advanced camera features such as face detection.
HTC Butterfly, on the other hand, offers 1080p video recording on the front camera too at a speed of 30fps.
Verdict: With a superior front-facing camera possessing full HD (1080p) capability, the HTC phone wins the contest hands down.
HTC Butterfly vs Apple iPhone 5: Storage
HTC Butterfly features an integrated microSD slot (upgradeable up to 32GB), as well as offering 16GB of internal storage. In contrast, the iPhone 5 does not offer the microSD slot and instead you can choose between three built-in storage variants - 16GB, 32GB, or 64GB.
Verdict: Apple yet again fails to offer the microSD slot for expansion, but compensates by providing three different storage options for iPhone 5 to the user. So, there is no clear winner in the storage battle.
HTC Butterfly vs Apple iPhone 5: Battery
The HTC phone is powered by a 2020mAh battery that is expected to deliver a decent battery life. In comparison, the iPhone 5 comes with a bigger battery that Apple claims will deliver 225 hours of standby time as against 200 hours of standby on iPhone 4S. The iPhone is rated to last 8 hours of talktime or 40 hours of music-playback on a full charge.
Verdict: There is still no clear winner in the battery department, as the HTC device is not yet benchmarked for battery-life.
HTC Butterfly vs Apple iPhone 5: Price and Availability
The price and release date for the HTC Butterfly across UK and Europe is still unknown. However, you could check out the price-list for Apple's flagship smartphone below:
SIM-free, the iPhone 5 16GB model is priced at £529, while the 32GB model will cost you £599 and the high-end 64GB model is sold at £699.
The iPhone 5 is available on all mobile networks in the UK, including EE, Orange, T-Mobile, O2, Three and Vodafone.
EE
The iPhone 5 is available on EE's 4G network starting with contracts of £36-a-month, with an up-front cost of £179.99.
Three
Three's cheapest offer is the Ultimate Internet 500 contract. Priced at £34-a-month (with £79 up-front for the 16GB model), which gives you unlimited data, along with 500 any network minutes and 5,000 texts per month.
O2
O2 offers the iPhone 5 free on contracts starting at £46-a-month. The offer includes unlimited calls and text, along with 1GB of data per month.
Vodafone
Vodafone's cheapest free iPhone 5 deal is £33-a-month with a £149 fee. Arguably more attractive, though, is the £37-a-month contract (with £99 up-front), that gives you unlimited minutes, unlimited texts and 1GB of data every month.