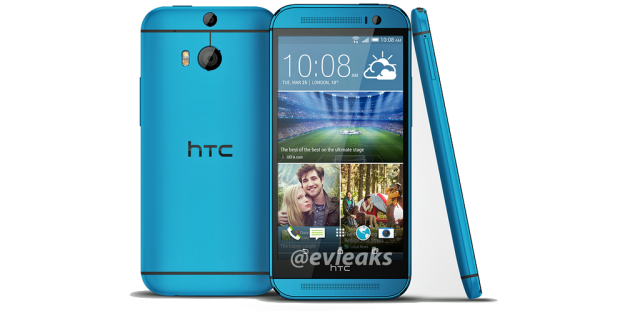 For those of you who found the standard colour options of the HTC One M8 a little too bland, here is the aqua blue variant that was leaked by reputed Twitter leakster, @evleaks, according to BGR.
As his excellent track record shows, @evleaks doesn't post pictures of handsets and products unless they are due for a release. That means, we can expect HTC to launch this eccentric variant of its flagship sometime soon.
The news does not come as a surprise as HTC had launched electric-blue variants of its flagship models back in 2013. At that time, HTC One released a blue variant of its 'One' smartphone, with the company also draping its smaller HTC One Mini in the same colour.
HTC One M8 Prime
In other news related to the HTC One M8, new reports now indicate that the HTC might release a One M8 Prime. The handset was leaked through a now-deleted Chinese Weibo post.
Apart from being rumoured to feature a Qualcomm 805 processor along with 3GB of RAM, the handset might also use a '2K' display featuring a 2560 x 1440 resolution. Expect 16GB of on board storage, a faster LTE 6 wireless modem and dual rear cameras.
Back in 2013, HTC released the HTC One Max, a larger version of its most popular smartphone with a 5.9-inch display. The rumoured 'HTC One M8 Prime' might just be this year's 'Max,' a larger handset. If launched, it could compete with phablets like Samsung's Galaxy Note 3.
As there's been no official word on this information, take it with a grain of salt.